Home > News > First Look


All about the Lal Masjid stand-off

July 03, 2007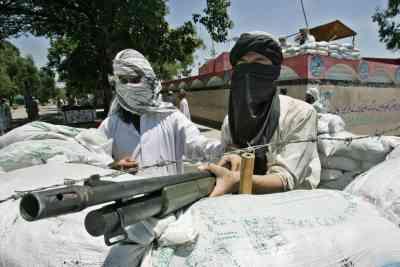 It all started in January with a stand-off between the Pakistan government and the Jamia Hafsa, the girls' seminary of Islamabad's Lal Masjid.
The government served notices to 81 mosques saying that they were unauthorized constructions and had to be demolished.
Don't Miss: Musharraf's Bhindranwale
To the establishment's surprise, it was the girls who came out in protest, brandishing rifles and forcing the authorities to back off.
The girls soon became a law unto themselves, raiding places they thought were not following the laws imposed by the Masjid and even kidnapping policemen.
In February, a United States-based Pakistan research scholar said the Lal Masjid is grooming these girls as wives and mothers for jihadis.
External Link: Lal Masjid warns of civil war
In March, the girls turned their attention to music and video shops. They began visiting various music shops to persuade the owners to close down. They made rounds of various markets as part of their drive against video shops.
One of the top clerics of the mosque Maulana Abdul Aziz even came out and said those who wanted to dance should go to India.
The first serious stand-off between the mosque and the government came on May 21, when 10,000 security persons surrounded the mosque.
External Link: 'Their business is jihad'
The chief administrator of the mosque Abdul Rashid Ghazi alleged that 200 students of their mosque have been detained by police and threatened heavy retaliation if any police operation was conducted.
He also threatened retaliation by suicide bombers.
He soon shocked the establishment as he claimed that more than one lakh suicide bombers -- including 10,000 in the two madrassas controlled by him -- were present in Pakistan and were ready to explode at the command of their superiors.
As the girls continued controlling the public library during the first stand-off, and the clerics were becoming increasingly defiant, Pakistan President Pervez Musharraf [Images] ordered a crackdown on madrassas.
On Tuesday, the situation snowballed, as the militant students of the Masjid clashed with the security forces.
A government spokesman alleged that the firing started after several madrassa students tried to barge into a building where the Rangers were lodged.
However, the mosque's administrator and militant cleric Abdul Rashid Ghazi alleged that violence erupted when Rangers moved close to the girls' madarassa and fired tear gas shells.
The cleric accused the government of starting the fighting and demanded the immediate withdrawal of about 1500 Rangers who surrounded the radical mosque on Friday.
Photograph: Aamir Qureshi/AFP/Getty Images