Home > News > First Look


Maharashtra rains: 45 dead, 5,000 evacuated

July 01, 2007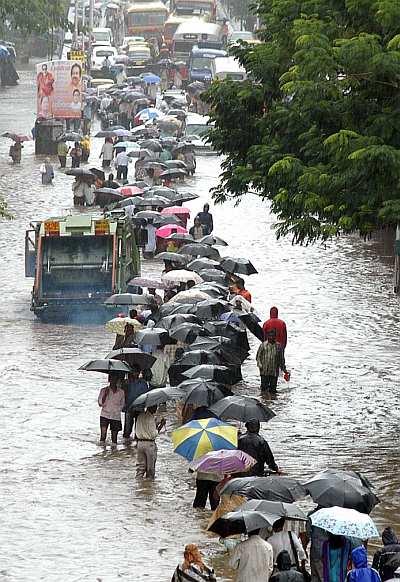 Torrential rains claimed 45 lives, including 14 of two families on Sunday in Maharashtra while 5,000 more people were evacuated to safer areas.
This was done even as intensity of the showers weakened and flood waters receded from low-lying areas of Mumbai where life limped back to normalcy.
The rains also battered several parts of Gujarat, claiming four lives, and Madhya Pradesh where normal life was thrown out of gear and Indore-Khandwa road blocked.
Fourteen persons, including women and children, drowned in an over-flowing river at Kalamand village of Amravati district when they were wading through its water, police said, adding 12 bodies have been recovered.
Rains destroyed 2,080 mud-built houses across 96 villages of the district and people residing there have been evacuated to temporary shelters, they said.
Around 40 people who were marooned in a building due to heavy flooding in Daryapur town of Amravati district, have been evacuated by sending boats, Relief and Rehabilitation Secretary Ramesh Kumar told PTI in Mumbai.
Maharashtra Governor S M Krishna told reporters that 45 people were killed by rain-related incidents over the weekend. He said over 5,000 more people were reloacted to safer areas.
Since the onset of monsoon, 155 people have been killed in the state due to rains, police said.
Rainfall decreased all over the state on Sunday and life is slowly returning to normalcy, Kumar told PTI.
Flood water receded from low-lying areas of Mumbai and all transport services in the metropolis were restored as the intensity of rains declined.
Though light showers continued throughout Sunday, flood waters started receding from low-lying areas of Mumbai and rail, road and air services, which were disrupted following heavy rainfall on Saturday, were completely restored.
Suburban rail services are running but behind schedule, railway sources said adding the delay is not causing much problems as the number of commuters are very few on Sunday.
Traffic was sparse across the city and movement of vehicles in low-lying spots like Milan Subway and Western Express Highway was fully restored after the waters receded.
A complete respite from rains is unlikely as the meteorological department forecast intermittent rain and thundershowers with strong gusty winds for the city.
6.1 mm of rainfall was reported from Colaba in South Mumbai while the north west suburb of Santacruz received 21.3 mm of rain, a met official said.
On Saturday, the city had received 288 mm rains while the scale stood at 944 mm in the devastating rains on July 26, 2005.
Meanwhile, the body of a 45-year old woman Vijaya Landge, who was missing since Saturday was found near the Kalpana theatre in Kurla on Sunday morning, police said adding there were no other rain-related casualties in the day.
"Pune and the Konkan divisions were the worst affected along with some pockets in Vidarbha. Districts in Pune division received over 200 per cent of annual rainfall in the last two days," Kumar said.
Over 1,500 people in Kranti Nagar area on the banks of Mithi river were evacuated to safer places, Krishna said. He said the army has been kept in readiness to help out he civil authorities in case of any eventuality.
Image: Traffic was badly affected in many areas of Mumbai
Photograph: Arun Patil