Home > Business > PTI > Report


Hillary Clinton in Afghanistan

January 15, 2007 15:44 IST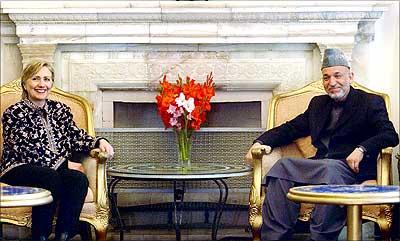 Afghan President Hamid Karzai meets with US Democratic Senator Hillary Clinton in Kabul, January 14. Clinton was in Afghanistan for talks including discussions on whether more US troops should be sent to fight the Taliban insurgency, officials said.
Clinton, a likely candidate for the 2008 presidential elections, was accompanied by Democratic Senator Evan Bayh and Republican Representative John McHugh, US embassy and Afghan government officials said.
Earlier, the Senator also visited Islamabad where she met Pakistani President Pervez Musharraf. Musharraf briefed the US Senators about the Indo-Pakistan dialogue process, saying that a peaceful solution to the Kashmir issue would ensure durable peace in South Asia.
Photograph : Massoud Hossaini/AFP/Getty Images
© Copyright 2007 PTI. All rights reserved. Republication or redistribution of PTI content, including by framing or similar means, is expressly prohibited without the prior written consent.