Home > News > First Look


All the President's flowers

February 07, 2007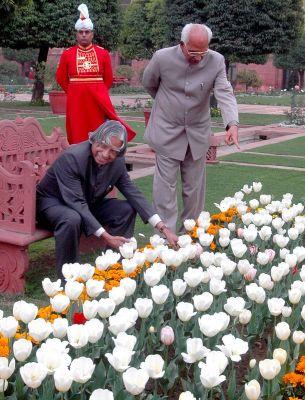 The Rashtrapati Bhavan's famed Mughal Gardens will be thrown open to the public from February 10 to March 18.
With dozens of rows of beautiful flowers, the gardens sport a new look and layout this year.
Apart from the regular bright flowers, there will be cactus, herbs, greens, commercial plants. Some medicinal plants will also be on display. You name it, the Rashtrapati Bhavan has it.
And hold your breath, there is a bio-diesel park too! The Jatropha plantation here is in its third year.
The Rashtrapati Bhavan also has something special for the President -- a rose that has both beauty and fragrance. The President likes the fragrant roses and for some time, the officials have been looking to blend both fragrance and beauty.
They have a few options and if the President agrees, there will be a dedicated nursery for such flowers.
Image: President APJ Abdul Kalam enjoying the flowers in the Mughal Gardens.
Photograph: Dijeshwar Singh/ Saab Pictures