Home > News > First Look


Protests greet Sanjay Dutt at TADA court

February 06, 2007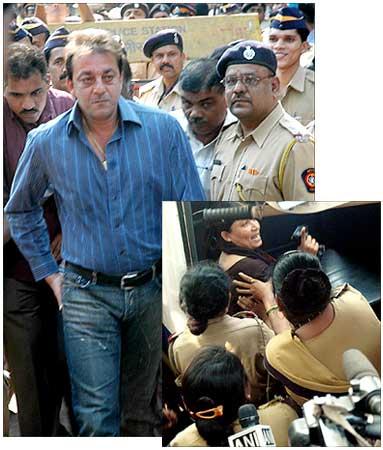 As Sanjay Dutt arrived at the special TADA court in Mumbai on Tuesday morning, he was met by protesting families of the other accused in the 1993 Mumbai blasts case.
The families are protesting the 'preferential treatment', which has been given to Dutt. Police have detained 12 women and three men.
The protests started peacefully at 9.30 am on Tuesday morning, about 100 metres away from the court. They were stopped for a short while after the actor arrived at the court but started again at noon.
"It seems as if there is one law for poor Muslims and one for Sanjay Dutt. While others who have been accused of the same charges as him have been booked under TADA, he has been booked under the Arms Act," says Amreesh Mishra, general secretary, Jan Morcha, Mumbai.
He also added that while Dutt has been granted bail repeatedly, others have been in jail.
Photographs: Arun Patil