Home > News > First Look


First Look: Sachin votes

February 01, 2007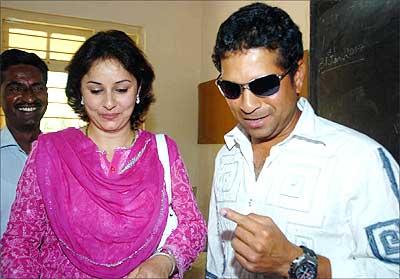 Cricketer Sachin Tendulkar on Thursday took time off to cast his vote in Mumbai's northwestern suburb of Bandra for the civic body polls.
While the usual favourite Shiv Sena-Bharatiya Janata combine has been weakened this time by the exit of Raj Thackeray from the Sena, the Congress has also not any pre-poll alliance with Sharad Pawar's Nationalist Congress Party.
Raj Thackeray, who exited the Sena over differences with cousin Udhav, will face his first real test as the head of his new party, the Maharashtra Navnirman Sena.
Photograph: Arun Patil