Home > News > First Look


An artist's tribute to Benazir Bhutto

December 28, 2007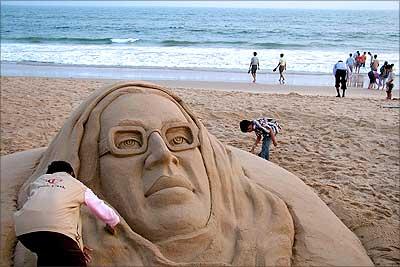 Sand artist Sudarsan Pattnaik gives the finishing touches to a sand sculpture of former Pakistani prime minister Benazir Bhutto [Images] on a beach in Puri, around 100kms east of Bhubaneswar.
The Pakistan People's Party chief was assassinated after an election rally at the historic Liaquat Bagh Park in Rawalpindi on Thursday.
Bhutto's death sent shockwaves around the world, with global leaders condemning the act.
Photograph: STRDEL/AFP/Getty Images
Also see: Bhutto's body flown to Larkana
Daughter of Pakistan