Home > News > First Look


Musharraf should step down: Imran

Our Correspondent in Mumbai | December 28, 2007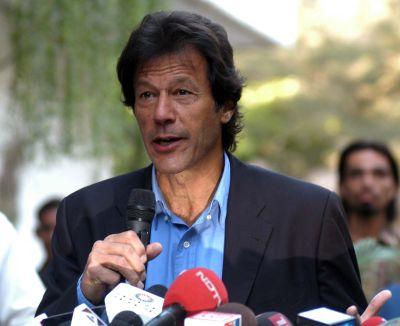 Pakistani cricketer turned politician Imran Khan [Images] said President Pervez Musharraf [Images] had failed in his war on terrorism and it was high time he steps down.
Speaking at a hurriedly organised press conference at a Mumbai suburb, Imran said, "Musharraf is a part of problem of terrorism and sooner he leaves power the better it would be for Pakistan."
Imran's party Teherek-e-Insaaf has boycotted the general elections sechduled to be held on January 8.
He was in Mumbai on personal visit. He will leave for Pakistan on Saturday.
Imran met the press a day after former Pakistan prime minister Benazir Bhutto [Images] was assassinated in Rawalpindi.
"Pakistan is ready for democracy now more than anytime in the past but there is no point in holding elections," said Imran, "People have lost faith in Musharraf and today nobody is safe in Pakistan. Who will now address a political rally? Who will come to attend the rally? A recent survey said 80 percent of the Pakistani people want Musharraf to step down but he refuses to leave his post."
Asked if there were chances that Pakistan's nuclear arsenal will be taken over by terrorists in case of chaos or civil war, the former Pakistan cricket captain said, "I don't think so but there is a threat that Pakistan will head towards anarchy."
When asked what message he wanted to give the people of Pakistan, he said, "To have patience. But for Musharraf I would say, your time is up. He is not the answer to terrorism. The situation in Pakistan has gone from bad to worse and the year 2007 saw the worst terrorist attacks in Pakistan."
When asked if Benazir make a mistake by coming back to Pakistan, Imran said, "She had to come back because she is the leader of a big political party. She was a brave woman and she was not timid. Nobody can deny it."
He further said, "Benazir's life came under threat because she was openly supported by America."
However, Imran did not hold Musharraf directly responsible for her killing but said, "Benazir was a threat to all those people who are in power."
Photograph: Arun Patil