Home > News > First Look


Modi sworn in as chief minister of Gujarat

December 25, 2007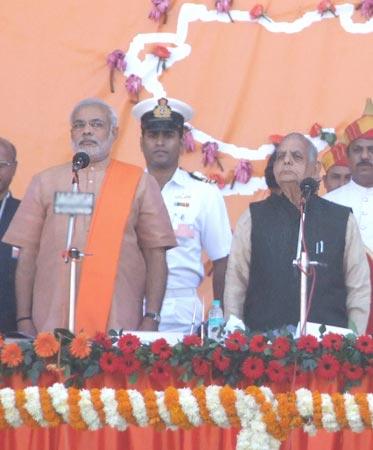 Narendra Modi [Images], who powered the Bharatiya Janata Party to a spectacular victory in the Gujarat Assembly polls, was sworn in as Chief Minister of the state for the third consecutive term on Tuesday.
The 57-year-old Modi was administered the oath of office and secrecy in Gujarati by Governor Nawal Kishore Sharma during a ceremony at the jam-packed Sardar Patel Stadium in Ahmedabad.
Modi, attired in a brown kurta and a saffron shawl, took the oath in Gujarati and in the name of God. He was the only one to take oath today. The ceremony coincides with the
birthday of senior BJP leader and former Prime Minister Atal Bihari Vajpayee.
The BJP leadership was present in full strength led by its Prime Ministerial candidate L K Advani and party chief Rajnath Singh.
Former Vice President Bhairon Singh Shekhawat, senior party leaders Murli Manohar Joshi, Venkaiah Naidu and Arun Jaitley as well as Chief Ministers of BJP-ruled states
Vasundhara Raje (Rajasthan), Shivraj Singh Chauhan (Madhya Pradesh), Raman Singh (Chhattisgarh) and B C Khanduri (Uttarakhand) were present at the event.
Among the National Democratic Alliance leaders present at the function were its convenor George Fernandes [Images] and Shiv Sena leader Manohar Joshi.
Immediately after taking oath, Modi walked to the leaders to receive their congratulations.
Later, accompanied by Advani and Rajnath Singh, he took a round of the stadium, that was choc-a-bloc with people, in an open jeep.
A large number of BJP activists were present in the stadium, waving the party flag and shouting slogans to cheer Modi.
On Monday, Modi was unanimously elected as the leader of the Gujarat BJP Legislature Party for a third consecutive term.
By leading the party in Gujarat for a second successive and spectacular win in the Assembly polls, Modi has achieved a feat unparalleled in the saffron brotherhood.
Modi, who has already earned the distinction of being the longest serving Chief Minister of the prosperous western state, faced the first polls in 2002 just one year after taking over the helm of affairs from Keshubhai Patel.
Image: Gujarat Chief Minister Narendra Modi and Governor Nawal Kishore Sharma at the swearing in ceremony on Tuesday.
Photograph: Rashmin Sondrawa