Home > News > Specials

The Rediff Special/ Kamila Shamsie

'The greatest gift a novelist can give us'

December 07, 2007



Being named a fellow of the Sahitya Akademi is a rare honour. When Anita Desai joined this elite group on November 30, Random House India celebrated the event by re-releasing three of her novels, with new covers, and new introductions by eminent writers.

Kamila Shamsie, the Pakistani novelist who was named in Orange's prestigious list of '21 writers for the 21st century, has written the new introduction to Clear Light Of Day. In it, she laments the fact that the novel has not quite been given its due, 'That Clear Light Of Day has not quite been accorded its deserved place as one of the leading 'Partition novels' may have something to do with its sidelong view: glancing allusions and attention to tiny details which echo and reverberate, rather than directness.'

Pigeons, Anita Desai tells us in Clear Light Of Day, have an 'individual genius for combining complaint and contentment in one tone.' It is one of the few instances when she gets things wrong. Not about the tone of the pigeons, of course -- as happens so often with Desai's writing her faculty of observation is so acute, it is impossible to fault it or really even to believe that we have gone so many years without seeing things precisely as she reveals them to be. That is the power of her writing, after all. Description feels like revelation: so it is revealed to us that watered earth and refreshed plants have a 'green scent,' that 'spiky' bougainvillaea should no longer be seen merely as brushing but as 'scraping' the walls, that a snail climbing clods of earth only to fall off is an 'eternal, miniature Sisyphyus.' Where she does get it wrong, though, is in attributing a singularity of genius to the pigeons for their ability to hold two notes in one tone.

In Clear Light Of Day, the House (which requires the capitalised letters of a proper noun because it is so vivid a character in the book) holds at least two tones in it at one time. Is it prison or refuge? A mothballed past or an oasis of continuity amidst clamouring change? Who are the fortunate siblings -- the ones who escaped it (Raja and Tara), or the ones who stayed (Bim and Baba)? From the very first sentences we are in a world of two-ness:

The koels began to call before daylight. Their voices rang out from the dark trees like an arrangement of bells, calling and echoing each others' calls, mocking and enticing each other into ever high and shriller calls.

From the orchestra of bells, heralding the start of day, we slip into a competition of shrillness -- harmony and cacophony separated by a mere comma. Those who talk of Anita Desai's surfaces of calm, or deceptive stillness, miss entirely her ability to make her readers feel uneasy from the start, all the more so for remaining uncertain about the nature of that unease. From where does it spring? At whom is it directed? If this is a genre, it may be best termed south Asian Gothic.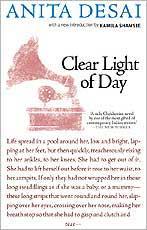 As is the case with the best writers of southern Gothic, Desai does not merely juxtapose beauty with ugliness, but makes it sometimes impossible to unpick the two. The relationships between Bim and her three siblings are at once awful and tender; the wildlife teeming around the house -- the parrots, gulmohars, guavas, koels, pigeons -- are symbols of both life and of neglect; Mira Masi is grotesque and heartbreaking. And the Gothic duality of the novel continues in other ways: all the events in the story's present are mundane (a sister comes to visit, there is tea with the neighbours, a brother walks out of the front gate and then returns home, an invitation to a wedding is proffered and refused) yet startling (violence, tension, unpredictability). And yes, in traditional Gothic style, there are ghosts alluded to -- the ghost of Mira Masi, of Bim and Tara's parents, of the cow whose carcass still rots in the garden well. But the real ghost, the one which inhabits every corner of the house and walks alongside Bim and Tara, a felt but unseen third in each conversation, is the past.
Among everything else that this is, it is a novel of Partition. 1947 is the backdrop -- and in part II, the foreground -- of the story. That Clear Light Of Day has not quite been accorded its deserved place as one of the leading 'Partition novels' may have something to do with its sidelong view: glancing allusions and attention to tiny details which echo and reverberate, rather than directness. Take, for instance, the matter of Raja's chosen field of study at university in the months leading up to Partition. With his love of Urdu he decides to enrol at Jamia Millia to study Islamic Studies, but his father refuses, pointing out that he will come under danger of attack from both Muslim and Hindu fanatics if he proceeds in that course. What, then, is the politically neutral field of study that Raja enters, in the very last days of the Raj? English Literature. It is a tiny moment, mentioned only once, in passing, but the historical irony is enormous. 
It is through Raja -- his love for Urdu, and his obsession with the Hyder Ali family -- that the Partition story is most clearly played out. But it echoes through other stories -- Mira Masi's spiralling descent into alcoholism in '47 can be seen as a reaction to the madness of the world outside, and there is a rejection of post-Partition India in Bim's own insistence on staying within Old Delhi where 'whatever happened, happened long ago -- in the time of the Tughlaqs, the Khiljis, the Sultanate, the Moghuls -- that lot.' This is not a novel of people who are forced to leave their homes by Partition, or face violence because of it; it is an altogether subtler tale of how Partition changed the world of Old Delhi.
Here is the novel's only consideration of refugee camps:
Here there was no light except for the dull glow of small cooking fires, blotted out by smoke and dust and twilight. They swarmed and crawled with a kind of crippled, subterranean life that made Bim feel that the city would never recover from this horror, that it would be changed irremediably, that it was already changed, no longer the city she had been born in.
No more is said about the refugee camp. For the purposes of the novel, no more is needed. To look upon the camps and see the lives within them was to understand -- and to feel -- that the world had changed, brutally. Horror spirals outward, leaving no one untouched. Having said that, it would be wrong to think of Clear Light Of Day as a novel with any time for nostalgia. It is lament for what was lost, not a rose-tinted looking back. But it does not stop merely at lament, which echoes and circles around itself endlessly; the real significance of the past here is the vexing question it poses of how to live in the present that has been constructed from it. The four-part structure of the novel mirrors this question: present, past, further past, present again. Move backwards to understand where you are now; enter the past but then return to the present.  And it is a present which --- having looked back and seen its own reflection -- finally, beautifully, incorporates the world of Mulk the guru with T S Eliot and also Iqbal -- nothing forced or false about it. Time the destroyer is indeed time the preserver.
Of course, none of this would work -- not the lament, not the Gothic elements, not the historical ironies, not the coalescing of traditions which were never separate to begin with -- if, both firstly and finally, the characters didn't work. Here is a novel teeming with people: the four siblings in the House and the four Misra siblings next door, the parents who are ghostly presences even before they die, Mira Masi, the merely-glimpsed-but-rarely-forgotten Hyder Alis, Dr Biswas and his mother, Bakul the diplomat. It is an intricate feat to keep all these characters within the pool of the novel, different storylines emerging, submerging, making their presences felt even when they aren't seen. But at the centre of it all, sometimes interlocked, sometimes drifting, sometimes whirling away from each other, are the two sisters: Bim and Tara. The diplomat's wife who lives far away, the unmarried schoolteacher who never left home. They are opposites in the way that only siblings can be opposites: their opposition manifest in differing responses to the same events. As we move with them through the sharp, precise details of their days -- shaking the petals off a rose, licking bright pink ice-cream, imagining the taste of unripe guava, listening to a record stuck in a groove, examining each other's lives -- we pass through the boundaries between what is real and what is imagined. It is the greatest gift a novelist can give us.
Excerpted from Clear Light Of Day by Anita Desai, with permission from the publishers, Random House India, Rs 295.
DON'T MISS!
YOUR SAY!
Have a question for Anita Desai? | Met her?
Want to buy Anita Desai's books?
The Rediff Specials