Home > News

Flowers and remembrances in Hyderabad

August 29, 2007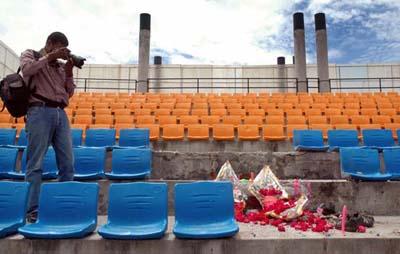 The sites of the twin bomb explosions, that took place in Hyderabad last Saturday, have become memorials.
Locals stop by, from time to time, to place roses, handfuls of marigolds, candles and bouquets on these spots in remembrance of the 42 people who died that evening and for the scores fighting for their lives in the city's hospitals.
At the open-air laser show arena within Lumbini Park, which is located on the shores of Hussiansagar Lake and is a popular attraction for evening strollers and dating couples, flowers have been reverently placed between the benches next to a victim's shoes that still remain from the August 25 evening blast.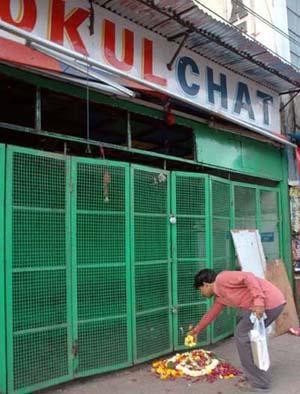 A laser show was in progress when the bomb went off somewhere in the middle of the arena.
Similarly a pile of flowers was growing in front of the shutters of  the now closed Gokul Chat Centre, once a popular evening spot for sampling local snacks and fast food, situated about five kilometres from Lumbini Park in the Koti shopping area.
A bomb placed on the kulfi counter killed 32 and injured 22 including Punit, who ran the counter and was the nephew of Lal Chand, the proprietor of  the shop.   
Photographs: AFP/Getty Images
Also read: In Hyderabad, a tale of two cities
The dossier of a terror mastermind
'Hyderabad is still a safe city'
Full coverage: Hyderabad Blasts