Home > News > First Look


Raksha Bandhan at the Rashtrapati Bhavan

August 28, 2007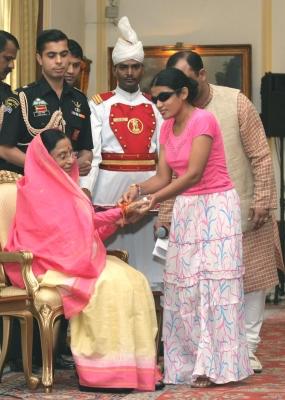 President Pratibha Patil [Images] on Tuesday wished the nation on the occasion of Raksha Bandhan.
"On this auspicious occasion, I extend my greetings and good wishes to all my people in India and abroad. It is a unique festival of love, affection and trust between sisters and brothers.
"May this festival strengthen the spirit of kindness and goodwill and spread the message of fraternal feelings and oneness among our people," she said.
Various people also presented the President with rakhis.
Seen in the picture is a visually handicapped girl giving a rakhi to the President at the Rashtrapati Bhavan [Images].
Photograph courtesy: Rashtrapati Bhavan