Home > News > First Look


Japan PM arrives with yen for business

August 21, 2007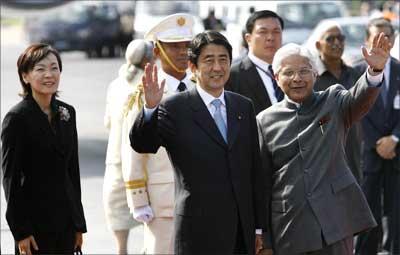 Japanese Prime Minister Shinzo Abe and his wife Akie is welcomed by Minister of State for Industry Ashwani Kumar after his arrival at the Air Force station in New Delhi, August 21.
Shinzo Abe is in India on a three-day state visit to firm up billions of dollars of investment projects, expand trade ties and discuss India's controversial nuclear cooperation deal.
He was accompanied by a large delegation of 212 top business executives and 12 vice chancellors of elite universities.
He will hold talks with Prime Minister Manmohan Singh [Images] on Wednesday on a wide-range of issues with focus on giving practical meaning to the Global and Strategic relationship established in December last year.
The two sides will discuss the possibility of civil nuclear cooperation under appropriate safeguards. Singh will also seek Japan's [Images] backing on India's nuclear initiative in the Nuclear Suppliers Group, despite the Left's warning against moving ahead on the Indo-US nuclear deal.
The two countries will unveil a "roadmap" for future ties to provide a new dimension to the "strategic and global partnership" established last year.
"This time we are targeting to produce a new dimension to the strategic and global partnership which was agreed last December," Japanese Ambassador Yasukuni Enoki said.
The two leaders, meeting for the second time in eight months, will also discuss ways to step up defence cooperation and economic ties besides all other aspects of bilateral relations.
"While sessions have been held on bilateral negotiations, there is more to come this year," he said, adding the bilateral talks were likely to conclude in the next two years.
Stating that India and the EU are united in fulfillment of the Doha development round, he said both want the Doha negotiations to succeed.
He said WTO members are now moving in the right direction and are far more optimistic about successful conclusion of the negotiations than ever before.
Text: PTI | Photograph: Prakash Singh/AFP/Getty Images