Home > News > First Look


President's first address to the nation

August 14, 2007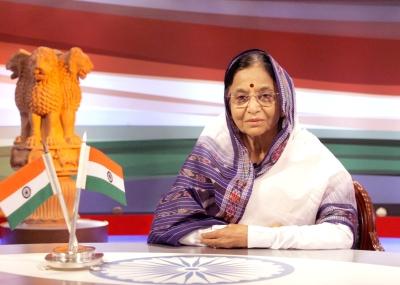 President Pratibha Patil [Images] Tuesday advocated reforms to ensure that the benefits of economic liberalisation reach all people so that the dream of freedom fighters of all-round prosperity is achieved. In her first address to the nation on the eve of Independence Day, Patil said: "We have to take special care to bring in egalitarian reforms to ensure that the full benefit of economic liberalisation reaches people at all levels.

"Growth, when unevenly spread, dwarfs overall prosperity. Only through socially inclusive growth can there be sustained consistency in our growth rates," the 72-year-old President said in her maiden address after assuming office in July.

She said that the country has "to ensure equitable growth for all. The fruits of economic development must necessarily touch, especially, the living and working conditions of our toiling masses and people below the poverty line."

With this, she said, the dream of the freedom fighters of transforming political freedom into a vehicle for attaining the goal of equality and prosperity for all would be achieved. She pointed out that the "empowerment of our economically deprived section of the society still remains unaccomplished". "Progress must relate to the lives of the people and we have to conscientiously discharge our responsibilities towards uplifting the socially and economically disadvantaged and weaker sections of society," she said.

The President said there was a need "to weld" the entire nation into a strong, unassailable entity in which there was no room for distrust between people. "For any nation and its people to become great, there is a need to pursue the path of collective vision," Patil said. She said the more developed should inspire and enthuse the less developed to race ahead on the road to development and there should be an endeavour to fostering an environment of "cooperative federalism and collective pursuit of national goals".

As the country's first woman President, Patil did not forget to mention the contribution of the fairer sex in building the nation. She said "history bears sufficient proof that our womenfolk have excelled themselves not only as able home-makers but in devoting themselves to the noble task of nation building".

"Let us resolve that they are not left marginalised in our society," she said and stressed that women should be made harbingers of sustainable development. While stressing on increasing the reach of representative institutions to the common man, she said: "Our endeavour should be to stamp out the imperfections and entrench democratic decentralisation to ensure participative decision-making of the people in the planning process at the grassroots level to build a vibrant India.

"Along with such decentralisation, it is equally important to provide a morally superior and clean administration," she said.

In her speech, she touched on various sectors including agriculture. Patil said in the coming years, the country would "need to ensure that agriculture becomes more rewarding with formulation of appropriate policies, measures and technologies".

She also stressed the need for holistic education, saying: "While we foster an atmosphere conducive to promoting higher standards of academic excellence, we should not overlook the need to nurture a system of holistic education that teaches positive values and makes good citizens."

Pointing to the need to intensify cooperation to fight the global challenges of terrorism, poverty, ignorance and disease, Patil said: "We stand for friendship with all nations and will continue to work for international peace and security.

"Today, India is poised to take flight into this open sky of success and perfection, and as loyal citizens of this country, it is our duty, as individuals and as a nation, to ensure that we do not let this unprecedented moment in time to go unutilised for the dream of a strong, robust and prosperous India," she said.