Home > News > First Look


Three terror modules operate in Karnataka: Police

Vicky Nanjappa in Bangalore | August 03, 2007

Text: Vicky Nanjappa

Karnataka police investigations have revealed that three terror modules presently operate in the state.

The Lashkar-e-Tayiba, they say, operates terror modules in Karnataka. Its modules in India have been divided into the Western and Southern Corridor and Eastern and Northern Corridor.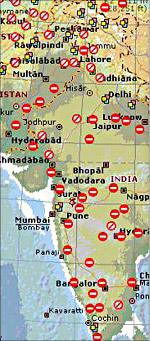 The first terror module was set up in Karnataka way back in 2001 by the Deendar Anjuman sect.

This sect masterminded a series of blasts in the state the same year.

After the December 2005 attack on the Indian Institute of Science, Bangalore, in which a scientist was killed, police investigations revealed that a sleeper cell was operating in Kolar, which is around 70 km from Bangalore.

Karnataka police officers feel the formation of an Anti-Terrorist Squad will tackle terrorism to a large extent.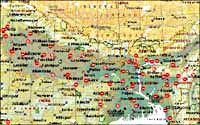 The police are demanding more powers for personnel handling terrorism and add that if the desired team is granted, then the growing menace of terrorism in Karnataka could be checked.

Meanwhile, an independent investigation conducted by the Karnataka police on the now deceased Kafeel Ahmed and his brother Sabeel Ahmed's involvement in the failed UK terror plot has revealed that the duo may have been trained by Iraqi militia to carry out the terror attacks.

The police suspect the brothers, along with the Britain-born, Iraq-raised Bilal Abdulla -- who was arrested along with Kafeel after the abortive attack on the Glasgow airport terminal building on June 30 -- could have been in touch with the Iraqi militia.

"The concept of universal brotherhood is driven into the minds of these boys that they are ready to carry out an attack anywhere in the world where they feel their community members are being harassed," a Karnataka police officer observed.

Images (Click to enlarge bottom image): Terror modules  

and sleeper cells  

active in India.