Home > News > PTI

'Aptitude test' for Dutt in jail

August 03, 2007 17:56 IST
Last Updated: August 03, 2007 17:58 IST



Actor Sanjay Dutt [Images] will undergo an aptitude test to ascertain his preferences before being allotted work at Yeravada prison where he is serving the six-year jail term given to him in the 1993 Mumbai blasts case.

The 48-year-old star, who was brought to the jail in Pune from Mumbai on Thursday night, will be asked his choices and preferences before he is allotted manual work as part of the rigorous imprisonment.

The choices for prison work include textiles, laundry, baking, paper printing, carpentry and painting, jail sources said.

"Normally we ask the preferences of prisoners and try to know the aptitude before assigning them daily work," a source said.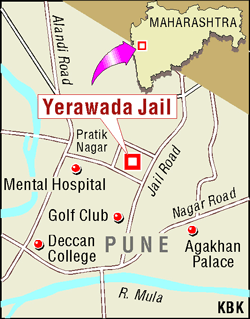 Among the reasons cited for shifting Dutt from Arthur Road Jail to Yeravada Jail was that the former is only meant for holding people facing trial and that the actor could not be given compulsory manual work in the prison in Mumbai.
Another reason was the security concern for Dutt, who is now being held in an egg-shaped cell meant for high-security prisoners.
Dutt was given the six-year term on Tuesday by a TADA court in Mumbai.
The Yeravada Jail, which has a vast sprawling campus, generates a good amount of revenue through the sale of products made by the prisoners, including chairs, cotton chaddar and leather chappals.
© Copyright 2007 PTI. All rights reserved. Republication or redistribution of PTI content, including by framing or similar means, is expressly prohibited without the prior written consent.