Home > News

Sanjay Dutt shifted to jail near Pune

August 02, 2007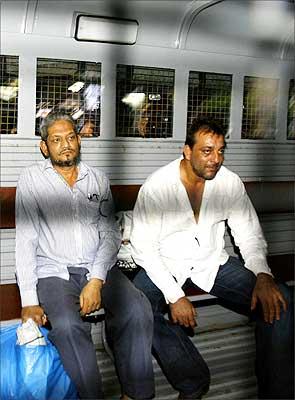 Actor Sanjay Dutt [Images] was shifted to the Yeravada Central Prison in Pune on Thursday night from Mumbai under tight security after he withdrew his application to be kept in a prison in the state capital.
Crowds thronged the roads leading to Yeravada jail on the outskirts of the city as the police van carrying the 1993 bomb blast case convict reached its destination in Pune after a three-hour journey.
A battery of cameramen and media persons jostled to capture the glimpses of 48-year-old star, given a six-year jail term in 1993 Mumbai serial blasts case, as the iron-meshed van carrying Dutt entered the main gate of the sprawling jail where Mahatma Gandhi [Images] and many stalwarts of the freedom struggle had spent days.
A thick security blanket was thrown around the prison and police checked vehicles traveling on the nearby Pune-Ahmednagar highway. Police had to resort to mild cane charge to control the crowd.
Dutt underwent a medical check-up soon after his arrival.      

A senior jail official told PTI that Dutt, convicted for possession of illegal arms, will be lodged in a separate high-security egg-shaped cell.
There will be no home food or any special privilege for Dutt who will be treated on par with other convicts, the official said adding that Dutt, after completing the admission procedure, will be given prisoner's clothes and treated in keeping with provisions of the jail manual.
Since Dutt came from Arthur Road jail in Mumbai where he was first put after sentencing, there was no need to interview him again after admission, the official added.
Eleven of the 1993 serial blasts convicts, awarded death sentence, have already been brought to Yeravada jail where the kingpin in the stamp paper scam Abdul Telgi is also lodged after his conviction.
Earlier in Mumbai, Dutt withdrew his plea in the special TADA court of Judge P D Kode to remain in Arthur Road jail after authorities submitted a report that cited several reasons why he could not be kept at Arthur Road Jail, which is meant only for persons facing trial.
The star, who was taken to a barrack in Arthur Road Jail immediately after his sentencing, was clad in a white shirt and blue jeans when he was escorted by policemen to Yerwada Jail in the evening.
Image: Sanjay Dutt and Yusuf Nulwalla in a police van that took them to Yerawada Jail in Pune from Arthur Road jail in Mumbai.
Photograph: Getty Images