Home > News > First Look


A letter from Gandhiji

August 01, 2007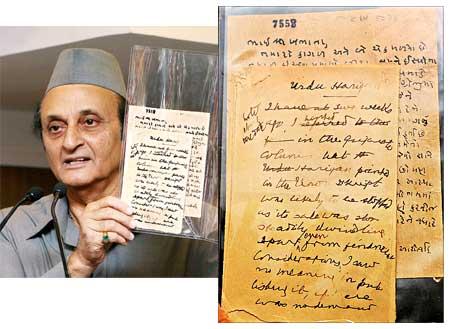 A few of the last letters written by Mahatma Gandhi [Images], before he was assassinated, were on the block in June, when British auction house Christie's put them up for auctioning.
Included in this collection -- that earlier belonged to a famous Austro-Czech historical letters collector named Albin Schram, (who once owned 1,000 letters) --  was a hand-written letter from January 11, 1948, written 19 days before his death.
This led to outrage from Indians all over the world, who felt that India's heritage could not be put up for sale. The controversy ended when the Indian government quietly purchased the bundle of letters from Christie's.
Auction of Gandhi's letters no big deal: historians
Karan Singh, former Union minister and current president of the Indian Council of Cultural Relations, displays the returned letters at a special press conference in New Delhi on Tuesday.
The letters have been presented to Navjivan Trust, the trust to which Gandhiji had bequeathed all the rights to his books, writings and letters which he had set up in Ahmedabad.
Photograph: Manan Vatsyayana/AFP/Getty Images