Home > News > First Look


Sunita Williams runs Boston Marathon

April 17, 2007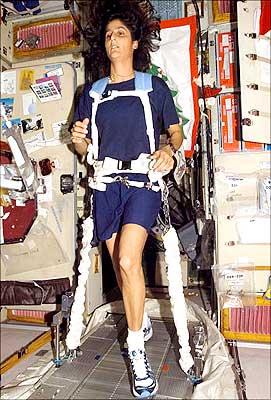 Bib number 14,000 was among the 24,000-odd runners in the 2007 Boston Marathon. She circled the earth at least twice, running as fast as eight miles per hour but flying more than five miles each second. Indian American astronaut Sunita Williams completed her marathon on a treadmill on board the International Space Station.
Williams, who qualified for the marathon when she ran a 3:29:57 in the Houston Marathon last year, clocked four hours and 24 minutes.
On why she ran the Marathon, Williams said: "I would like to encourage kids to start making physical fitness part of their daily lives. I thought a big goal like a marathon would help get this message out there."
In Boston, marathon runners had to withstand a temperature of 48 degrees with some rain, mist and winds of 28 mph. However, Williams ran under better weather conditions than her Boston counterparts. Her biggest challenge running in space was staying harnessed to a specially-designed treadmill with bungee cords.

According to Williams, running on the Treadmill Vibration Isolation System can be uncomfortable. The machinery puts a strain on the runner's hips and shoulders. Williams, an accomplished marathoner, had been training for months while serving a six-month stint as a flight engineer on board the ISS.

Photograph courtesy: NASA

Also see!
Video (Courtesy NASA): Sunita runs Boston Marathon (Real Player needed)
Coverage: Sunita Williams in Space