Home > News > Report

Where milk needs to be diluted with water

April 16, 2007 14:09 IST

Rediff.com Assistant Managing Editor Syed Firdaus Ashraf covered the first phase of the Uttar Pradesh assembly election in early April.

These are his impressions of the campaign and its issues in India's largest state:

Development, development, development

If you think Uttar Pradesh has no development, then Saifai is where you need to go to. Saifai is the hometown of UP Chief Minister Mulayam Singh Yadav.

The roads leading to Saifai are almost state of the art and so are the various structures Mulayam Singh has erected in the town including schools, colleges, a stadium, a girls' hostel, hospitals and an artificial lake.

There is also a college named after Amitabh Bachchan. The only thing missing is an Opposition party flag.

I asked Uttar Pradesh Congress spokesperson Akhilendra Singh about this. "If we put up posters or banners in Saifai," he alleged, "goonde pitai kar denge (goons will thrash us). Mulayam's goons run Saifai."

"Uttar Pradesh's development funds have been diverted to Saifai," Singh alleged. "There is a helipad and a runway. A runway is not available in Agra where the Taj Mahal is located but there is one in Saifai. What is the need for this? Who will travel by air to Saifai? Mulayam only developed his constituency whereas the rest of Uttar Pradesh has been left in darkness."

Backward Bundelkhand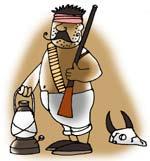 If the road from Kanpur to Saifai in Etawah district is pothole free and represents what 21st century India would like to aspire to, then the road from Kanpur to Jhansi in Bundelkhand represents the 1857 era of Rani Laxmibai.
Amitabh Bachchan, while praising Mulayam's government in television commercials, probably didn't travel this road because there is no road in the first place.
The area is known for dacoits and has been one of the poorest areas in India since Independence.
The late dacoit turned politician Phoolan Devi hailed from this region as does another dreaded dacoit Nirbhay Gujjar.
Bundelkhand consists of Chitrakoot, Banda, Hamirpur, Mahoba, Jalaun and Jhansi and borders Madhya Pradesh.
Migration is at an all time high in this region because ground-level water is depleting fast.
To make matters worse there are no factories to provide employment and agriculture has been hit by droughts or floods.
Power cuts are a regular occurrence. Ten hours are the average duration of power cuts during the summer all over Bundelkhand.
Sanjay Singh, secretary, Parmarth Samaj Sevi Sansthan, Jalaun, told me, "There have been 1,040 suicides in the last three years but the state government has not admitted this till date."
Parmarth, an NGO, works for the downtrodden in the area.
Only 21 MLAs out of UP's 403 MLAs hail from Bundelkhand, says Sanjay Singh. "The density of population is very low, therefore Bundelkhand is a neglected area by politicians."
Why milk needs to be diluted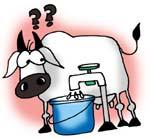 In Barthana in Etawah district, where Mulayam Singh is contesting the assembly election from, I saw a milkman pouring a quarter bucket of water in his milk can.
I could not take this and ticked him off.
The milkman was unabashed. "You look like an outsider," he said. "Let me tell you that you can't drink pure milk because of its bad taste."
Whatever the case I said, it was not right for him to dilute the milk.
Later that evening, I found a woman milching a cow next to Mulayam Singh's home in Saifai.
"I have never tasted fresh milk in my life," I told her. "Can I taste it?"
Her husband went in and brought a glass of milk. "It is too much," I said, surveying the glass. "I won't be able to drink it."
At their insistence, I took a sip and didn't know what hit me!
The milk tasted so bad that I didn't know whether to drink it or spit it out. The couple were looking at me with a sparkle in their eyes, eager to know my reaction.
I decided to gulp the milk down and muttered it was good.
I realised how correct the milkman in Barthana was when he told me that if you don't mix water in milk in these parts, it tastes bad.
The four Cs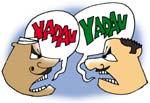 If someone asks you what works in Uttar Pradesh, the answer is simple: The Four Cs. Caste. Criminalisation. Communalism. Corruption.
Take any party -- the Congress, the Bharatiya Janata Party, the Samajwadi Party, the Bahujan Samaj Party -- and they cannot do without the Four Cs.
The worst of the Four Cs would probably be caste.
Most people in UP, it appeared to me, don't think beyond caste. This includes Muslims too, who believe in upper and lower castes.
I asked a BSP supporter in Barthana who would win the seat. "Our candidate Shiv Prasad Yadav," he said confidentally.
Astonished, I asked how he could be so confident that the BSP would defeat Chief Minister Mulayam Singh. "There are four Yadavs in the fray in Barthana including Mulayam," he explained. "Shiv Prasad Yadav is the only Yadav from the Ghosi community whereas the BJP and Congress candidates and Mulayam are Kamariyan Yadavs."
"Most of the voters in Barthana are from the Ghosi community and their votes will go in favour of the BSP candidate whereas the Kamariyan Yadav votes will be divided among the other three parties. So it is an easy win-win situation for our candidate," he added.
If you read on May 11 that Mulayam Singh Yadav has lost the election from Barthana, blame it on his caste.
Illustrations: Uttam Ghosh