Home > News > First Look


The IITians in UP poll fray

April 05, 2007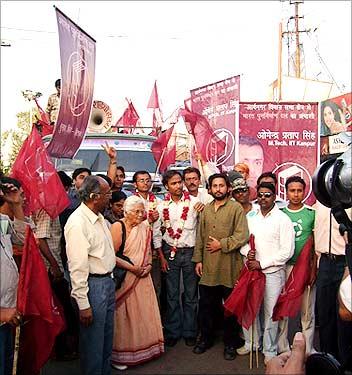 At 28, he sports a beard just like Cuban revolutionary Ernesto Che Guevara. He also rides a motorcycle like Che but not in South America but from Lucknow to Kanpur and back.
Meet Ajit Shukla, an ex-IITian who is spearheading a new political party in Uttar Pradesh led by former IITians -- the Bharat Punarnirman Dal.
BPD has decided that they will contest a dozen seats in UP assembly elections and it is just a beginning of a new movement in the state troubled by caste and religious divides.
It will contest in and around Lucknow, Kanpur, Barabanki, Faizabad, Allahabad and Varanasi.
Ask him is he inspired by Che Geuvera's brand of politics, Ajit smiles to say, "No way, please. I believe democracy is the best form of government."
He continues: "Today the state of Indian politics is in a sad state because educated people have kept away from it. We want educated people to come forward and support our cause for a better India."
Hailing from Deoria district in Gorakhpur division, eastern Uttar Pradesh, Ajit is an ex-IITian from Mumbai with a degree in mechanical engineering.
He and his ex-IITian friends have managed to get a dozen educated names including some ex-IITians to contest elections in UP this year.
Their election symbol is a book and Ajit feels it was the best symbol they could think of.
Speaking about the state of Indian politics, he says, "We educated people have to expand our responsibilities and it is high time we do so for our country."
So what happens to his career now that he has entered politics? "Politics is my career and I cannot think of any other career in my life."
BPD's most high profile candidate is Umendra Pratap Singh contesting from Arya Nagar in Kanpur. Omendra, also an ex-IITian -- an MTech from Kanpur, worked in TCS till four months ago.
He resigned to serve the people and started campaigning. "I was active in politics in my student days," says Omendra
"When I joined TCS I was not satisfied in my job. I felt I could not do anything for people so I joined politics. I feel politics is the only way to solve people's problems," he added.
Asked how the response has been from the people, Omendra said, "I was expecting a good response and it has been more than satisfactory and overwhelming."
Ajit added, "The response is good but I am happy with the fact that people who are above 45 too are our big supporters. They want to give us a chance because they have tested all other political parties."
In fact, when Rahul Gandhi came to Kanpur to do a road show, IIT students and BPD members took to street to protest his visit.
Their aim was to send a message to Rahul that his party was not right in implementing the reservation policy in educational institutions in India.
Says Chandrashekhar Sharma who is a spokesperson for the Youth For Equality forum, "The Congress is dividing Indians by implementing reservation policies and therefore we protested against him. We don't need politics on caste because we all are Indians." 
Chandrashekhar and his friends are actively supporting Omendra Singh in Kanpur.
Manish Sharma who runs a communication business too has come out in open support of BPD. "My parents were reluctant for me to join BPD but now they have allowed me to do so. They felt politics is all about muscle power but that is not the case."
Ajit pitches in to say, people believe that today politics is all about money power or muscle power. "We don't have all these things but still we want to prove a point and I am hopeful we will win some seats."
He adds, "People think that to contest an election you need lot of money. In a constituency of 2.5 lakh voters, Rs 1.5 lakh is enough. Moreover the maximum limit set by the Election Commission for every candidate is not more than Rs 5 lakhs."
Asked how seriously people will take him and his party, Ajit quips, "It is only the results that will give an answer to your question."
Reportage: Syed Firdaus Ashraf in Lucknow
Image: A BPD rally in Lucknow. The bearded man in a kurta is Ajit Shukla. The lady is Manvati Arya, who fought in Subhash Chandra Bose's Azad Hind Fauj