Home > News > First Look


Image: Dutt's verdict delayed

September 12, 2006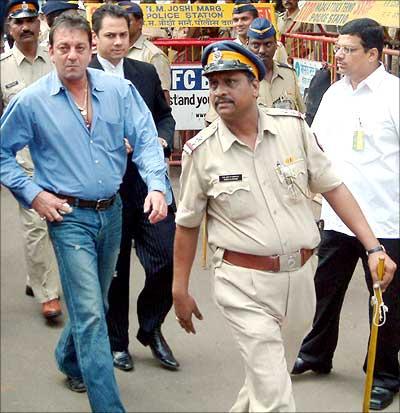 A TADA court on Tuesday began giving out the verdict in the 1993 Mumbai serial blasts.
With over a 100 persons accused in the case, the judgment will be given in batches of 8.
While Sanjay Dutt is accused number 117 and will have to wait for another month before his sentence is delivered, four of the Memon brothers were convicted on the first day of the verdict.
Three other members of the family were acquitted.
Photograph: Arun Patil


What do you think about the story?








Read what others have to say:





Number of User Comments: 8








Sub: Sanjay Dutt's verdict delayed

i sympathesize with the thinking of the people who think Sanjay dutt is innocent and shud be let off. ask the family of those people ...


Posted by PRASANTA CHATTERJEE









Sub: munna bhai

what ever but baba has changed a lot n paid enough for that crime subah ka bhula sham ko ghar aaya toh usse bhula nahi ...


Posted by amit gala









Sub: Dutt

Sanjay Dutt was a good main.


Posted by vijay kumar pathak









Sub: release

sanjay dutt is not involved in bomb blast. now he is superstar.he is best actor. woh nirdosh he, use jane dena chahiye. all the best ...


Posted by daxy









Sub: sanjay dutt delayed verdict

whyy sanjay dutt verdict was delayedd its already delayed for 13 yrs now delayment for whatt reason?????????????????????????


Posted by deepti






Disclaimer