Home > News > PTI

43 miners in Dhanbad coal mine dead

September 07, 2006 10:28 IST
Last Updated: September 08, 2006 00:33 IST



Forty-three of the 50 miners trapped in a coal mine in Dhanbad have died due to inhalation of carbon monoxide following an explosion underground, and authorities virtually ruled out the survival of the remaining.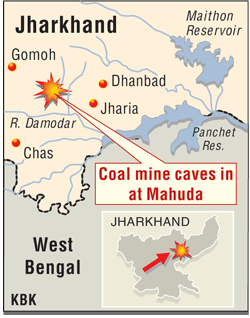 "Rescue teams have located 43 bodies from the Bhatdih mines of which 34 have been brought to the upper level," Dhanbad Deputy Commissioner Bela Rajesh told PTI adding, efforts were on to trace the remaining bodies.

Coal Minister Shibu Soren, who visited the accident site, announced a compensation of Rs 3 lakh to the families of the deceased workers and a job to their kin.

BCCL Chairman and Managing Director Partha S Bhattacharya had earlier said that the possibility of the survival of the miners was bleak. BCCL sources said it will be difficult for the miners to have survived the carbon monoxide gas after the explosion.

Twenty rescue teams from BCCL and other Coal India subsidiaries, Eastern Coalfields and Central Coalfields, were engaged in rescue operations and were drilling holes to let in fresh air into the mine, which collapsed on Wednesday, trapping the miners at Bhatdih mine.
Soren ordered a departmental inquiry into the accident and the probe committee headed by chairman and managing director Coal Mines Planning and Design Institute has been asked to submit its report within 15 days.
The committee will ascertain the causes of the incident, fix responsibility, if any, and make suggestions for avoiding any recurrence.
The minister said stern action will be taken against officials if found responsible for the incident.
Prime Minister Manmohan Singh on Thursday night expressed shock at the death of miners and assured support to the next of kin of the deceased.
© Copyright 2006 PTI. All rights reserved. Republication or redistribution of PTI content, including by framing or similar means, is expressly prohibited without the prior written consent.



What do you think about the story?








Read what others have to say:





Number of User Comments: 4








Sub: itz a bull shit

it happens ya man it does i have been ther for 42 dayz like i was in the hell. those mines have 0% human considerations ...


Posted by rajesh sharma









Sub: 30 miners in Dhanbad mine dies

Next to China, India operates some of the most dangerous and unsafe mises in the world - and these are govt owned mines - shows ...


Posted by labrea









Sub: Coal miners are still unsafe

Coal mine disasters are regular feature,like train accidents.In 1994-New kenda fire,2001-Bhagidigi Inundation,then singareni -Godavarikhani inrush of water,then in ccl in one mine rooffall and water ...


Posted by Ranjit Mohapatra









Sub: This is a brutal murder

This incidence once again proved how bad the value the system keep in India for the life of common man. No body can think how ...


Posted by Mukesh






Disclaimer