Home > News > Columnists > Virendra Gupta

India's West Asia dilemma

September 05, 2006

The likelihood of India pulling out its troops from the expanded UN Interim Force in Lebanon (UNIFIL), which has been entrusted with the onerous responsibility of monitoring the fragile truce between Israel and Hezbollah in Lebanon is not totally unexpected, given the prevailing sense of dismay and anguish in India over Israel's recent actions in the Middle East, as reflected by the unanimous resolution adopted by our Parliament.

If Israel was looking for a quick and decisive military campaign, that certainly eluded it. It did manage to inflict heavy casualties in Lebanon but had to take a serious blow itself leaving large number of its defence personnel dead.

Indeed, it turned out to be a huge psychological victory for Hezbollah for having successfully withstood the military onslaught of the powerful Israeli war machine. In the process, the issue whether Hezbollah is a terrorist organisation got completely obfuscated, for which Israel is itself to blame.

If Israel was banking on exploiting the Shia-Sunni divide in the Muslim world or to drive a wedge between Hezbollah and the Lebanese government, its actions managed to achieve exactly the opposite. Thanks to Israel, Hezbollah leader Nasrallah, a Shia, is now a folk hero in the largely Sunni Arab world.

Israel also lost on the diplomatic front -- the tide of world public opinion having quickly turned in Hezbollah's favour because of disproportionate use of force by Israel and wanton destruction of civilian lives and property in Lebanon. What made it worse was the unrepentant and aggressive posture adopted by the Israeli leadership all through the conflict.

That the international community colluded with Israel in delaying the ceasefire resolution in order to give Israel more time to achieve its military objectives made it look even more lamentable.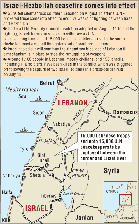 Israel could not have waged this war merely to drive home a point that actions against it would invite overwhelming military response to make the cost of any such action too high since that has already been Israeli State policy practiced on almost a daily basis on the helpless Palestinians.
It is being suggested in some quarters that Israeli campaign was part of America's grand strategy for a new Middle East and a prelude to a pre-emptive strike on nuclear installations in Iran. This is as far-fetched as it is alarming. The resilience of Iran-backed Hezbollah fighters must have actually dampened the enthusiasm of neo-cons in USA for any such misadventure.
Israel prides in doing what it considers best for itself, unconcerned by others, US included. It believes in creating 'facts on the ground' and nothing else matters to it. As for Israel serving US strategic interests in West Asia, that remains the biggest misconception of our times, an illusion unwittingly cherished by many Israelis.
Quite evidently, reasons for American support to Israel lie in its domestic politics. If America is really interested in a new, more liberal, democratic dispensation in the Middle East it would need to distance itself, not acquiesce in the unreasonable and uncompromising approach of Israel.
America is the only country which has some leverage with Israel and it must take necessary steps to pressurise Israel into sincerely resuming the stalled peace process.
It is sad to see the manner in which Israel is going ahead in imposing a unilateral solution with regard to the Palestinian question. The construction of a high-tech boundary wall and fence to separate the Palestinians territories from Israel, in today's age and times when the whole world is trying to integrate and dismantle barriers between nations and peoples is retrogressive, to say the least. That Israel is seeking to create for the Palestinians separate disjointed enclaves connected only through underground tunnels in pursuance of the Allon plus plan is even more disturbing.
What is abhorrent is that Israel is seeking to define its permanent borders with Palestinian in a completely arbitrary manner without reference to any legality or moral justification. The argument that Palestinians having lost the 1967 war and successive rounds of the intifada should accept whatever is 'given' to them negates the basic tenets of civilised behaviour.
Nor can the argument for occupation and control of foreign territory and water sources by Israel in order to safeguard its security have any justification in contemporary international relations.
There are enough people in Israel who want peace, perhaps because of prolonged war weariness -- over a century has passed since the early years of Jewish settlements in Palestine even before Balfour Declaration. No community, howsoever tough, can remain comfortable in a state of perpetual 'siege'.
When I was in Israel in the early nineties, things looked promising, even though then prime minister Yitzhak Rabin had advanced a rather contorted apartheid logic to promote peace and land settlement.
What has gone wrong?
A new Middle East was being envisioned then, premised on vibrant regional economic linkages. Could the overriding need for economic cooperation in the region emerge as the imperative yet again for the peaceful resolution of the festering Arab-Israeli conflict? Economic interdependence may perhaps provide the security guarantees which have eluded Israel so far.
UN Security Council resolution 1701 requires UNIFIL to perform the task of peace enforcement in Lebanon and disarming of Hezbollah. For India to get embroiled in such a task in an extremely volatile and charged environment could prove very messy.
For one, the disarming of rebel groups or resistance forces has never been easy; indeed it has been well-nigh impossible, as the experience in the other theatres of the world would bear out. Syria and Iran have traditionally supported Hezbollah and it appears highly unlikely that UNIFIL would succeed in snapping that connection.
Besides, there remains a big question mark on how long would the truce last. India faces an unprecedented dilemma in West Asia. Today, India has strong bilateral cooperation with Israel in agriculture and high tech areas. In fact, Israel has emerged as a major supplier of military technology to India. This cooperation is extremely important for us from the standpoint of our security and economic development.
But our relations with Arab countries are also equally important as they have always been. Particularly noteworthy is the significant turn around in our relations with Saudi Arabia. King Abdullah's visit to India earlier this year is bound to impact positively on how the Gulf States and the Organisation of Islamic Countries at large would look at us in the coming years.
There are new business opportunities for us in the region in technology and services sectors which go beyond our erstwhile role as provider of labour force and managerial expatriates. Our approach would have to balance our national interests with the need to maintain autonomy in foreign policy. There can be no quarrel with the principle of having a single minded focus on our national interest in the conduct of our foreign policy.
Ironically, even as we may disagree with Israeli methods, there are plenty of people in India who would argue for India emulating Israel in dealing with its neighbours. But our long term interests in the region and our credibility will not be well served by ignoring Israeli excesses particularly in view of stong popular sentiments in the country. Our democratic traditions would demand nothing less.
Our status in the comity of nations would in fact be enhanced if we are seen to adopt objective stand on critical issues in a self confident manner behoving a big country like us and not allowing any country, howsoever important, to take us for granted.
Ambassador Virendra Gupta is Deputy Director, Institute for Defence Studies and Analyses. He is a serving Indian Foreign Service officer. He served in the region and was entrusted with the task of opening the Indian embassy in Israel in 1991. The views expressed here are his own.
Guest Column


What do you think about the story?








Read what others have to say:





Number of User Comments: 5








Sub: Independent foreign policy needed

In the recent conflict in Lebanon, involving Isreal and Hezbollah, as the author had pointed out, the efforts of certain nations to delay the ceasefire, ...


Posted by Murali Swaminathan









Sub: Israel has been pushed to wall by Arabians

The excesses that were done in not so distant past on Israel & it was forced to go on war in its early formative years.The ...


Posted by Tejas









Sub: `west asian friends'

I am glad that the author has clarified that these are his personal views, considering the astonishing amount of naivete, and baseless assumptions in the ...


Posted by Nagesh Subbanna









Sub: Can u also in the next article tell us what did islamic countries did to our Nation...

Can you instaed of being a spineless money (tax payer) eating beaurocrats, who screwed up our foreign policy by always looking for yeah! "But our ...


Posted by me communal









Sub: India's West Asia dilema

We have always backed Israel in her fight against terror, but use of the most advanced munitions including cluster bombs to indiscriminately kill hundreds of ...


Posted by labrea






Disclaimer