Home > News > First Look


Image: A train on the highway!

October 31, 2006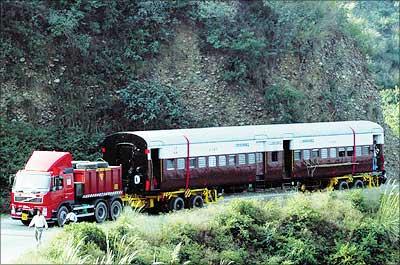 Remember that amphibious car in the James Bond movies, which was as cool underwater as it is on the road? Something similar was on display on the Jammu-Srinagar highway on Tuesday.
A train coach, fitted with a special engine and 36 truck tyres, zig-zagged through the serpentine highway, much to the amusement of locals and commuters.
It was the first trial run of what will be a 24-coach train that will cover Jammu-Srinagar by road and will become your normal train on tracks soon after.
The service is expected to be operational from February 2007.
Read full report here.


What do you think about the story?








Read what others have to say:





Number of User Comments: 8








Sub: A train on the highway_ Whaw !

Respected Sir, This is a good news as far as transportation in Jammu Srinagar is concerned.It will very well help the forks there and this ...


Posted by Shobha nair









Sub: This Happens only in India

Whose brainchild is this. I like this. I have heard of airplane landing/or taking off from road and then why not a rail coach plying ...


Posted by Vijay









Sub: Train on road

will it be safe on hilly roads? Are not we inviting problem on busy roads.


Posted by khurana









Sub: Exceptioinal

India has to follow such imaginations to show the world.....INDIA IS GREAT!


Posted by Dharmendra









Sub: How can they????

if this is the case.. a train on road... how r they gonna dispose???? :p u knw wat...


Posted by Arvind






Disclaimer