Home > News > First Look


Jimmy Carter meets the PM

October 27, 2006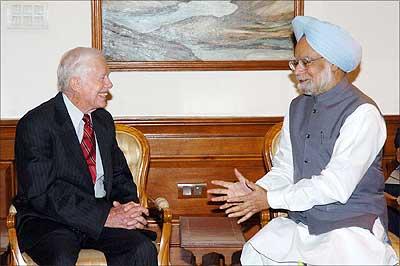 Former US President Jimmy Carter met Prime Minister Manmohan Singh on Friday in New Delhi.
Carter, who was President from 1976 to 1980, is visiting India after 28 years in connection with a humanitarian project.
A Nobel Peace Prize Laureate for his 'untiring efforts' towards resolving international conflicts, Carter has dedicated much of his life toward several issues.
His visit to Lonavla, near Mumbai, on Saturday, will also be a personally significant one, since his mother had served there during her time in the Peace Corps.
Photograph: Saab Pictures


What do you think about the story?








Read what others have to say:





Number of User Comments: 2








Sub: jimmy carter's visit

Jimmy Carter is always remembered as a failure who took USA to unlimited inflation who also lacks the common sense in dealing with realities in ...


Posted by subramanian









Sub: With his humanitarian approach the former US President continues to shine !

Wishing the former US President Jimmy Carter a fine stay in our country !


Posted by Dr. Cajetan Coelho






Disclaimer