Home > News > First Look


The man who financed 5.3 million poor people

October 13, 2006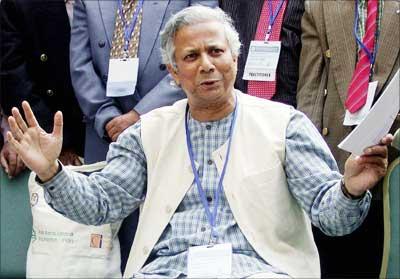 When Dr Muhammad Yunus has been named the recipient of the Nobel Peace Prize 2006, it is not just a personal triumph for the 66-year-old but also for his Grameen Bank Project, which has fought poverty in Bangaldesh for decades through a micro-credit system.
A Fulbright scholar who studied economics at the Vanderbilt University in US and later taught it at Chittagong University, Dr Yunus was deeply affected by the famine that hit Bangladesh in 1974. Wanting do his bit, Dr Yunus realised that very small loans could help people in building up their lives. His first loan, which was $ 75 from his personal funds, was lent to women in Jobra, a village near Chittagong University. These women, who manufactured bamboo furniture, benefitted greatly from his loan, as traditional banks did not help them.
The Grameen Bank was founded two years later and has, since then, issued more than $ 5.1 billion to 5.3 million borrowers.
Explaining his reasons for starting the project, Dr Yunus has said, "I came with the arrogance of a PhD; I thought we could solve the problems of Bangladesh. Once I was there, I was confronted with a nationwide famine and the arrogance melted away. I felt humbled; I couldn't do anything. Then I decided that, rather than worrying about what happens to the whole world, or Bangladesh, or the famine situation, I would just find out what I could do to help one person have a better day."
In several of his speeches at international fora, Dr Yunus has explained that he turned the conventions of banking around mostly because no financial institutions exist for two-thirds of the world's population - "We've created a world which goes around with money. If you don't have the first dollar, you can't catch the next dollar." He has strongly stood by his belief that 'the poor are credit-worthy and given the credit facilities, the poor can change their own lives'.
"This work is not just about loaning money, paying it back, and hoping that things will change. We also engage the people who borrow from us in discussions about the social problems that they face in their lives and the kind of solutions they imagine for themselves," he has emphasised.
Dr Yunus has been internationally lauded for his efforts and the micro-credit system has been replicated in several countries, including the United States. Among the many accolades that he has received are the Magsaysay Award, the Gandhi Peace Prize, the Sydney Peace Prize and the World Food Prize.
On the Grameen Bank website is Dr Yunus's vision - 'these millions of small people with their millions of small pursuits can add up to create the biggest development wonder'. And they have.
Photograph: Shafiq Alam/AFP/Getty Images


What do you think about the story?








Read what others have to say:





Number of User Comments: 3








Sub: 'The poor are credit - worthy and given the credit facilities, the poor can change their own lives'.

"This work is not just about loaning money, paying it back, and hoping that things will change. We also engage the people who borrow from ...


Posted by Dr. Cajetan Coelho









Sub: Congratulations.....

To Dr. Younus and to Grameen bank, Congratulations. You are GREAT. Thanks, Amar


Posted by Amar









Sub: peace be upon him...

He is truely awarded for his service. I hope he will get more international funds to help poors. Salam!!! Mamud


Posted by mamud hasan






Disclaimer