Home > News > First Look


Relative values: Kiran and Anita

October 11, 2006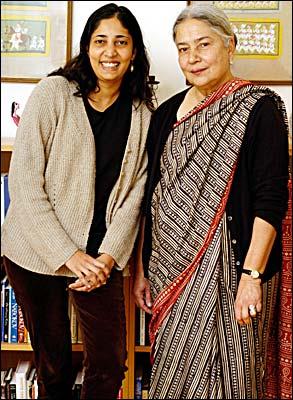 Kiran Desai, 35, winner of the Man Booker Prize for Fiction 2006, is the daughter of celebrated novelist Anita Desai, 69, who teaches literature at the Massachusetts Institute of Technology, Boston. Desai senior is the John E Burchard Professor of Humanities at MIT.
Bookers have a special link with the Desai clan. Anita, has been shortlisted twice for a Booker -- for Fasting, Feasting (1999) and In Custody (1984).  And in 2006 her daughter won it!
Anita Desai, born Anita Mazumdar to a German mother and Bengali father, has, through her life, divided time between Mussoorie, Delhi, Mumbai, Mexico City and Boston. Kiran too had crisscrossed continents and changed homes -- she was educated in Mumbai, later England and then in Massachusetts, Vermont, Virginia and New York. 
'My mother told me never to be a writer'

Kiran has said earlier that her mother had a special influence on her writing because she grew up hearing her mom talk about literature and writing and she was able to consult Anita while writing Hullabaloo in the Guava Orchard and The Inheritance of Loss.
Photograph: Paresh Gandhi
To immediately purchase Hullabaloo in the Guava Orchard or The Inheritance of Loss online click on each title.


What do you think about the story?








Read what others have to say:





Number of User Comments: 2








Sub: Kiran & Kavita

It is defininitely a proud moment for all indians especially for indian ladies. Bravo Kiran.


Posted by C R Kulkarni









Sub: congratulations!

The great immigrants dillemma has always interested me. I know how it feels to be part of the white world without actually being part of ...


Posted by puja






Disclaimer