Home > News > First Look


Her mother's daughter

Arthur J Pais | October 11, 2006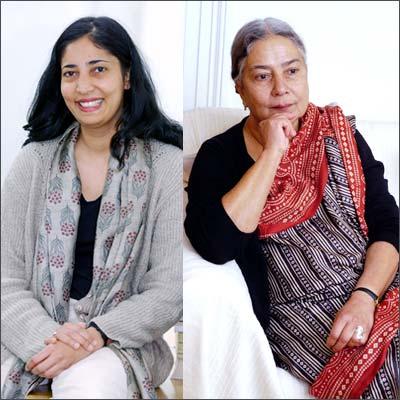 None of my children wanted to be a writer," says a smiling Anita Desai. But her fourth child Kiran began writing while studying at Bennington College in Vermont, USA, thanks to the encouragement of one of her professors.
When Kiran Desai began working on her first novel, Hullabaloo in the Guava Orchard,she often took off from the graduate programme at Columbia University and went to her mother's home in Cambridge, Massachusetts, USA.
Anita worked upstairs, Kiran downstairs. She preferred downstairs, Kiran once said, because she could raid the refrigerator in between her writing.
"My mother and I have worked together in India, Mexico and the United States," says Kiran. "I don't know what I would have done without her presence. It takes mental stamina and discipline to work in utter isolation, especially if you are attempting to confront difficult matters, ugly matters. I began to understand what enormous strength she's had to look at terrible things.
Relative values: Anita and Kiran
"We respect each other's privacy regarding our books in progress," Kiran adds. She stayed in her room for several hours while her mother was being interviewed by Rediff India Abroad in November 2004.
"I didn't know what she was doing, other than the most basic fact of the book (The Zigzag Way) being set in Mexico. And she didn't know what I was doing, except that the book The Inheritance of Loss was set partly in India, partly in the States.
"I only read the manuscript once it was all done. It's hugely comforting to know that someone else in the house is also at work, especially someone who allows you to go deep into your own work," says Kiran.
"We usually work in separate corners and meet to cook together. And to shout at the filthy news each morning in the papers and each evening on television," she says. "While we don't talk of our work, we talk of books, the political news. I know her sensibility about these things has influenced me."
How long has she been admiring her mother's work? "I truly understood what my mother's life and work were when I began to write myself," is Kiran's reply. "Before that, I hadn't realised what enormous commitment is required of a writer. I didn't know what emotional, mental strength and what sense of discipline are needed.
"Only as I've grown older have I begun to understand what she writes about," Kiran says. "The emotional territory, the changing world of when she was growing up, the subsequent direction of our lives that are a continuation of those days, the upheavals of that time. As a child, my life seemed static: Delhi, school, books. Only as we left India, as I grew older and more politically aware did the patterns (in the books) reveal themselves, emotional as well as historical."
What are the lessons she has learned from her mother? "I remember being frustrated after finishing Hullabaloo," Kiran recalls. Though the book -- about the upheaval of an unexpected sainthood -- was well received by many critics and was praised by Salman Rushdie, Kiran wasn't quite happy.
"It wasn't quite what I wanted," she says. "I remember my mother saying how vital is was to know when to stop, that it wasn't necessarily when everything had been polished to smoothness; that the desire for perfection could destroy a raw and perhaps imperfect quality that would make a better book.
"Also, I'll say that she's a very wise teacher," Kiran says, a sentiment many of Anita's students echo.
"I always wonder how she is so kind, how she errs always on the side of generosity," Kiran says. "But I think it is because she makes only useful criticism and leaves what cannot be fixed in the understanding that there are things one learns only as one goes along. At least, that is my interpretation."
She has learned about a writer's life by living it with her mother, Kiran says. "I'm always amazed that so many writers treat writing like a business, respond to the fashion of the day, schmooze, network, involve themselves in petty jealousies, spend days counting up sales figures.
"My mother has always focused completely on her work -- not the slightest attention paid to the side chatter," Kiran says. "It has no effect on her writing, her thoughts."
Even though her new book was complete when Rediff India Abroad spoke to her mother in November 2004, Kiran follows her mother's example of talking just a bit about it. "It has episodes set in the past and present. It's about Indians, rich and poor, encountering colonisation, globalisation. It focuses on the tragedy of how this world, that we are constantly being assured is brave and new, is proving to be so very cowardly and so very old; the hate between nations intact, the poverty older, vaster, more entrenched.
"My mother was always very private about her books," she adds. "They appeared as if by magic and her presence always seemed separate from her writing. Now I understand why.
"One has to guard one's work. That ability to immerse oneself entirely day after day, seven days a week for hours, years, is hard won. One has to protect a work that is being formed, let it find its own way. Talking about a book is a different skill and comes after the book is finished."
She says she never thought of being caught in her mother's shadow. "Partly because of the kind of person she is -- she has never made me feel that way. And also because I don't think of writing like that. It isn't a career to me. The business side, the critics, are beside the point. I feel this more and more as time goes on and writing becomes deeply a way of life."
Photographs: Paresh Gandhi
To immediately purchase Hullabaloo in the Guava Orchard or The Inheritance of Loss online click on each title.


What do you think about the story?








Read what others have to say:





Number of User Comments: 9








Sub: Her mother's daughter

Hi, Kiran, we are proud of you. You brought fame not only to you but also to our nation (India). Thank you and Keep it ...


Posted by KVSS Rajeswara rao









Sub: HER MOTHER' DAUGHTER

My sinceremost congratulations to Kiran Desai for winning the Booker & bringing laurel to India.She has proved to be a perfect dauhter to an eminent ...


Posted by biswajit hota









Sub: Her mother's daughter

Just goes to show that in spite of modern day gadgets & teaching aids the influence of parents in moulding your destiny can hardly be ...


Posted by V.K.Vydhianathan









Sub: congrats

well done kiran,its proud to be an indian,i was happy ,when i saw you ,winning the prize,youre mother is really a good strength,for you,and she ...


Posted by cynthia









Sub: excellent coordination

inspite a critical,but more precisely crusial relationship of being mother and daughter they being a very good friend more over a good humanbeing. A wowen ...


Posted by ritesh






Disclaimer