Home > News > First Look


Diya days

October 10, 2006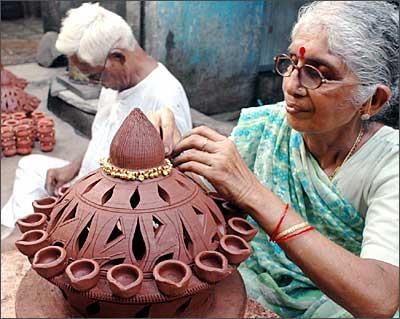 Diwali is on October 21. Just 11 days away.
Mumbai, where the festival is celebrated with much ceremony and joy, is slowly getting geared up.
In Dharavi, Asia's largest slum settlement, in north Mumbai, an elderly woman potter creates a fancy diya for the festival.
Kumbarwada, near Bandra East, in north Mumbai, not far from Dharavi, virtually transforms itself into a diya bazaar in these coming days and the tiniest earthenware simple round diyas are available for just 50 paisa.
This season diyas in exotic shapes are in. You can find them in butterfly, leaf or heart shapes. Some are painted bright red. Others bright green. 
How will you celebrate Diwali?
Photograph: Arun Patil