Home > News > First Look


President Kalam charms the children

November 15, 2006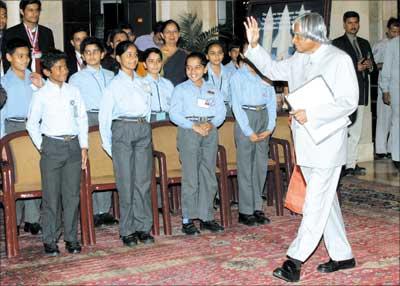 President Dr. A P J Abdul Kalam interacted with school children from various parts of India on the occasion of Children's Day at Ashoka Hall of Rashtrapati Bhavan.
The President met more than 450 children aged between 5-18 years on Tuesday.
He impressed upon them the need to acquire knowledge to make progress in their careers.
The President told the assembled children that they should contribute to the development of the nation by using their spare time on Saturdays and Sundays to teach people in rural areas who cannot read or write.
Photograph courtesy: Rashtrapati Bhavan
Also read: Children of a lesser god


What do you think about the story?








Read what others have to say:





Number of User Comments: 5








Sub: In One Word......................

Our President is the 'Best'


Posted by arzoo









Sub: Amen

Had been feeling a bit depressed lately, looking at the activities of those in the business of ou nation's politics today. I am feeling a ...


Posted by Protyush Ghosh









Sub: Children are the future leaders of our country !

"using spare time on Saturdays and Sundays to teach people in rural areas who cannot read or write" - a fine thought indeed.


Posted by Dr. Cajetan Coelho









Sub: hi

good statement


Posted by hari









Sub: Dr. APJ Kalam

I really adore our president.he's the inspiration of our young generation. He's the best. I hope and pray his tenure is extended for the next ...


Posted by Amy






Disclaimer