Home > News > First Look


India, Pakistan foreign secretaries meet

November 14, 2006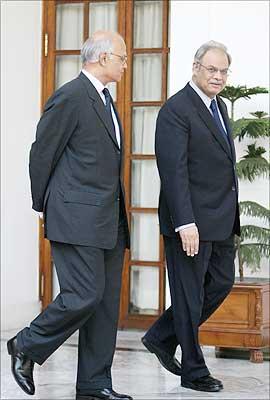 Indian Foreign Secretary Shiv Shankar Menon (left) and his Pakistani counterpart Riaz Mohammed Khan arrive for a meeting at the resumption of peace talks in New Delhi, on November 14.
Top diplomats from both countries opened peace talks after a four-month gap following the terror attacks in Mumbai, officials said. 
India and Pakistan are expected to tale up issues like terrorism and Jammu and Kashmir besides confidence building measures.
Photograph: Prakash Singh/AFP/Getty Images
Complete coverage: Indo-Pak peace process