Home > News > First Look


President Kalam on the drums!

November 14, 2006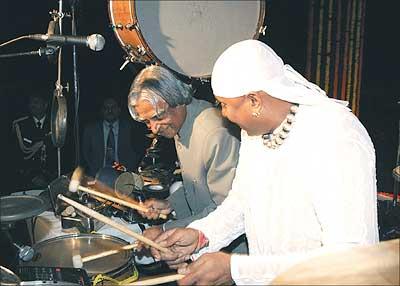 President A P J Abdul Kalam plays the drums with noted percussionist Anandan Sivamani at the Rashtrapati Bhavan's Mughal Gardens on November 13.
Earlier, the President felicitated the artistes of the fusion music group Shraddha, who performed in the Mughal Gardens as part of the Indradhanush programme organised by the Rashtrapati Bhavan Cultural Club. Shraddha is formed by musicials Shankar Mahadevan, Mandolin U Srinivas, Sivamani and Loy Mendonsa.
President Kalam had started the Indradhanush series of concerts at the Rashtrapati Bhavan in December 2002, to highlight India's rich cultural heritage, with Pandit Jasraj kicking off the series of concerts.
Also read: President Kalam turns 75


What do you think about the story?








Read what others have to say:





Number of User Comments: 3








Sub: Gr8 President

I don think we will ever see a person like Mr. Kalam. Such a great Individual. He is such an inspiring person. Gods have indeed ...


Posted by Sougandh









Sub: !!!!!!!!

I wish he was the Prime Minister of India!


Posted by peacelover









Sub: He is great

We didn't have a great president like APJ Kalam in past who is so enthusiastic.He should get a second term.We love him.


Posted by Hindustani






Disclaimer