Home > News > First Look


Will this man defuse the Iraq crisis

November 09, 2006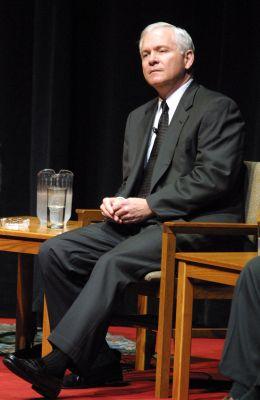 United States President George W Bush has nominated former Central Intelligence Agency director Robert Michael Gates as the next Secretary of Defence.
If elected, Bush will be the fifth US president that Gates will serve.
During his tenure at the National Security Council, Gates had served four earlier presidents, including Bush's father George H W.
Interestingly, Gates, who served as a member of a commission that has been studying the Iraq campaign and exploring a way out, was one of the key advisors of the then president Bush during the first Gulf War.
A look at his 26-year career in the intelligence agency will tell more about the man.
He was nominated to become the CIA director in early 1987, but withdrew the nomination after it became clear the Senate would reject it due to controversy about his role in the Iran-Iraq war.
President Bush, in 1991, nominated him for the position of CIA director for the second time.
This time around, he was elected and he became the only career officer in the CIA's history to rise from entry-level employee to director.
Besides his career record, his vast experience during the first Iraq war must come in handy to Gates, who is stepping in when the war in Iraq is under tremendous criticism.
Photograph: AFP/Getty Images


What do you think about the story?








Read what others have to say:





Number of User Comments: 1








Sub: Spelling correction

Do you mean "defuse"?


Posted by Swapnil Rajurkar






Disclaimer