Home > News > PTI

India, Pak talk Sir Creek

May 25, 2006 17:00 IST

After failing to make any headway on Siachen issue, officials of India and Pakistan on Thursday met to sort out differences over Sir Creek amid indications of a positive outcome. At the two-day talks, the Indian side is led by Surveyor General Maj Gen M Gopal Rao while Pakistan's Additional Secretary, Defence, Admiral Ahsan-ul-Haq Chaudhri is heading his country's delegation.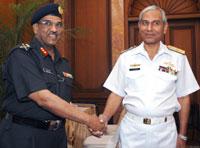 Officials were hopeful of a positive outcome of the parleys to resolve the dispute over boundary between the two countries in Rann of Kutch, a marshy land area between Gujarat and Sindh province of Pakistan.
The two countries had agreed in October, 2005 to undertake a joint survey of Sir Creek and consider options for the delimitation of the maritime boundary, without prejudice to each other's position. The survey has since been carried out and its report is to be considered at the current round of talks, officials said.
The two sides will try to work out a resolution of the issue on the basis of the survey. Sources said that the survey had been necessitated as the old maps exchanged by the two countries had been found to be irrelevent because of change in the topography in the marshy region.
Defence Secretaries of the two countries on Wednesday failed to make any headway in the two-day talks on Siachen glacier after Pakistan refused to agree to authentication of the present positions held by the two countries at the world's highest battlefield.
Photograph : Ranjan Basu/Saab Pictures
© Copyright 2006 PTI. All rights reserved. Republication or redistribution of PTI content, including by framing or similar means, is expressly prohibited without the prior written consent.