Home > News > First Look


Who's keeping Arjun Singh on a leash

May 24, 2006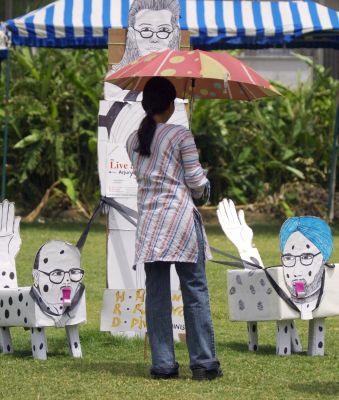 First, they performed the last rites for him. Now, they are going to burn his effigies.
Looks like there is no respite for Human Resource Development Minister Arjun Singh from the doctors protesting against his proposal to reserve 27 per cent of seats in central educational institutions for OBCs.
Even as the government said that it will go ahead and implement the proposal, the medicos have called for nationwide 'civil disobedience' on Thursday.
The doctors have also vowed to make their agitation ''more aggressive and intense'' and spread it to every part of the country.
Image: Effigies representing Congress chief Sonia Gandhi keeping Prime Minister Manmohan Singh (right) and Human Resources Development Minister Arjun Singh on a leash, outside the All India Institute of Medical Sciences AIIMS in New Delhi.
Photograph: Prakash Singh/AFP/Getty Images


What do you think about the story?








Read what others have to say:





Number of User Comments: 7








Sub: Anti-Reservation

Can anyone tell me how i could help those who are fasting for the betterment of Merit than caste. I stay in Kerala, and i ...


Posted by Sreekumar.MD









Sub: Who's keeping Arjun on a leash

Yeh. it is obvious. Sonia will divide the country Region wise, Caste wise . The country will be ruined. Senthil Arumugham, USA ...


Posted by Senthil Arumugham









Sub: reservations

I request the doctors on strike from the past.When VPSingh thrust Mandal act 250 young people burnt themselves to death but the demon didnt even ...


Posted by din









Sub: reservations

we support directly or indirectly some political party during the elections,some politician during some localised happenings.And then forget about everything. In India no political party ...


Posted by sudhir.k









Sub: Arjun Singh on Lease

Well Done Medicos!! Keep up the good work. I just wish you don't loose the steam. Be persistent. We are with you, in whatever way ...


Posted by amit






Disclaimer