Home > News > Report

J&K: High security, tension before round table

Mukhtar Ahmad in Srinagar | May 23, 2006 20:46 IST
Last Updated: May 23, 2006 21:04 IST



Heightened tension depleted vehicular and pedestrian movement on roads and the pronounced presence of paramilitary forces and the police marked the eve of the prime minister's visit to the Kashmir Valley to preside over the second round table conference in Srinagar on Wednesday.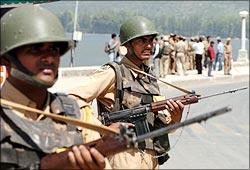 The second RTC which has already lost its sheen with the refusal by all the separatist groups, including the moderate All Parties Hurriyat Conference, to attend it was marred by the boycott of the Bharatiya Janata Party.
The state unit of the BJP is demanding adequate security for the minorities in hilly Doda district following the recent massacre. The party had demanded postponement of the second RTC.
The Sheri Kashmir International Conference Centre, where the RTC is scheduled to sit, has been turned into a fortress with several rings of security.
The SKICC waterfront, which is part of World famous Dal Lake, was being patrolled by paramilitary and police troops in motorboats.
The authorities threw a thick blanket of security around the SKICC and no movement is being allowed in the area.
The roads leading to the venue have been sealed by paramilitary troops deployed in strength.
Security around vital installations is also high.