Home > News > First Look


Kalam with maulvis on a mission

May 18, 2006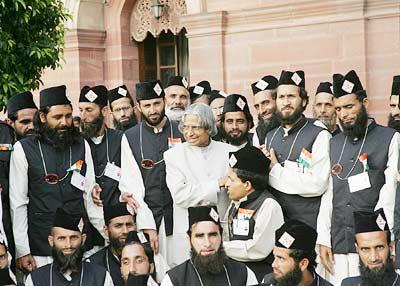 Thirty-five maulvis (Muslim scholars) from Jammu and Kashmir are out on a mission.
The maulvis, who hail from militancy-affected Rajouri, Poonch and Doda districts of Jammu and Kashmir, will spread the message of peace in the Valley.
They met President A P J Abdul Kalam at Rashtrapati Bhavan on Thursday.
The scholars will work hand in hand with the Army to inform people that the so-called holy war being waged by militants was an eyewash.
As part of their mission, they will also seek to increase awareness among people, advising them to work for the betterment of the state.
Image: President A P J Abdul Kalam with the group of Maulvis from Jammu and Kashmir at Rashtrapati Bhavan.
Photograph courtesy: Rashtrapati Bhavan


What do you think about the story?








Read what others have to say:





Number of User Comments: 13








Sub: really appriciating

more than i appriciate the maulvis efforts i appricate the india brothers who are supporting the cause and not making uselss commets as we notice ...


Posted by soheb mohiuddin









Sub: Maulvis on a mission : a fine initiative !

May their efforts bring peace, prosperity and well being for our people.


Posted by Dr. Cajetan Coelho









Sub: Really great job!!

Their job is really regarding and appreciable. It is ofcourse a hard mission in which there life too is in danger. I pay my regards ...


Posted by Suhasnatyan









Sub: Maulvis for peace - But is India on their minds?

They are talking against terrorism. They are talking for Kashmir. But didnt see India fitting in the picture?


Posted by Shreerang









Sub: Maulvis on a mission

The meaning of the word MUSALMAAN is MUSALLAM IMAAN, which means ONE WHO IS IMAAN (LOYAL) TO HIS COUNTRY. Of late some of our muslim ...


Posted by Shreesh Onkar






Disclaimer