Home > News > First Look


Did quotas kill democracy?

May 16, 2006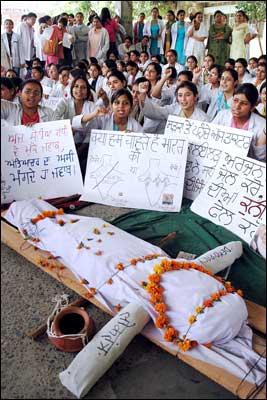 The indefinite hunger strike by medical students in the capital against the proposed quota for OBCs in elite educational institutions entered the third day on Tuesday.
At least 100 students of Delhi's five premier medical colleges and some adjoining colleges, under the 'Youth For Equality' banner, continued their indefinite hunger strike at All India Institute of Medical Sciences, demanding immediate rollback of the controversial proposals and review of the reservation policy.
Meanwhile, the government is considering to increase the number of seats in institutes of higher education. Human Resource Development Minister Arjun Singh has, however, reiterated that there will be no going back on the proposed 27 percent reservation for OBCs.
Image: Medical students shout anti-government slogans as they sit beside an effigy representing democracy during a demonstration.
Photograph: Narinder Nanu/AFP/Getty Images

Also Read: The Reservation Issue


Don't Miss:
Anti-reservation fire rages across India
Images: Doctors in Arms





What do you think about the story?








Read what others have to say:





Number of User Comments: 42








Sub: No, it did not kill the democracy.

It gagged the economic growth. It killed the nation. Our buddhi-dhun (the intellectural property) that is the greatest asset for any nation has been forced ...


Posted by chanakya









Sub: Death of Democracy

Yeah,its true that democracy looses its meaning when rights are restricted.By reserving 50% seats in top institutes, Govt. is comprominsing with merit.They are myopic in ...


Posted by cirus









Sub: Reservations killed democracy

Yes, yes and yes. Stopping it after 10 years as suggested by ambedkar should/may have given some growth.. but the politicians have hijacked and used ...


Posted by G Mohan Prakash









Sub: Why do we need quota based on castes/classes?

First, Government should think and try to answer the below question before moving forward with this issue. Why do we need quota based on castes/classes? ...


Posted by Arul









Sub: ''The curse of the Indian HRD Ministers''

Why are politicians and political parties are hell-bent on destroying any credible institution that has somehow escaped the stranglehold of mediocrity. Instead of creating an ...


Posted by Gaurav






Disclaimer