Home > News > First Look


Celebrating Sonia's victory

May 11, 2006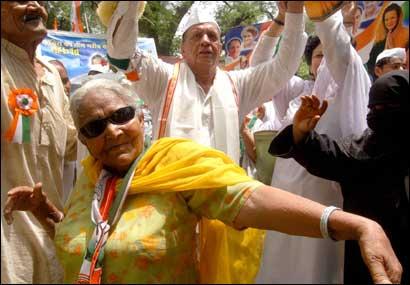 It is celebration time at the Congress headquarters in New Delhi as Congress party chief Sonia Gandhi won the Rae Bareli byelection by a huge margin on Thursday.
Sonia sought re-election upon quitting as member of  Parliament in March after the opposition accused her of violating the Constitution by being a lawmaker as well as holding an office of profit (head of the National Advisory Council).
Sonia will return to Parliament after Thursday's victory from Rae Bareli, her constituency in Uttar Pradesh. She won the seat by a margin of 4,17,888 votes.
Caption: Congress workers celebrating Sonia Gandhi's win outside the Congress headquarters in New Delhi.
Photograph: Dijeshwar Singh/ Saab Pictures


What do you think about the story?








Read what others have to say:





Number of User Comments: 4








Sub: congratulations

congratulations Mrs. Gandhi to win the Mp elections. Thanks/dilip


Posted by dilipsingh









Sub: sonia's victory

its really shame for all BJP leaders and workers they have worked day and night to defeat sonia gandhi but they failed even to maintain ...


Posted by saeed









Sub: victory is urs

my hearty congrats to Ms.Gandhi on her historical win in her constituency.Really it is a reward given by the people to her for her incredible ...


Posted by Gold Serene









Sub: congratulations

this victory of party president is just aglimpse of faith by raebareli janta we will breake every record of victory in coming future.we all pepple ...


Posted by vikas dixit






Disclaimer