Home > News > First Look


All pay homage to Mahajan

May 09, 2006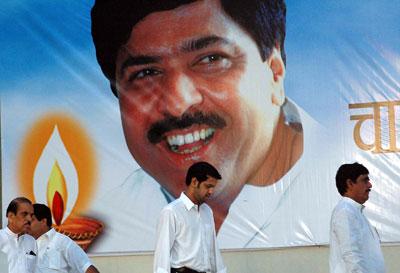 Leaders of various political parties on Tuesday paid rich tributes to slain Bharatiya Janata Party leader Pramod Mahajan at a meeting in Mumbai.
Nationalist Congress Party leader Sharad Pawar said Mahajan had risen from a middle-class background in Marathwada region, without any financial or political backing.
"Even senior BJP leaders like Atal Bihari Vajpayee and Lal Kishenchand Advani remained in the four-corners of their party set-up and did indulge in communication with leaders of other parties, but Mahajan crossed those four-corners and developed rapport with leaders of all parties," Pawar said.
Shiv Sena leader Manohar Joshi said Mahajan was responsible for forming and maintaining the Sena-BJP alliance in Maharashtra. "He had a lion's share in ushering in the Sena-BJP rule in the state in 1995," Joshi said.
Chief Minister Vilasrao Deshmukh said Mahajan maintained coordination with all leaders. "His demise is a loss to the
nation," he said.
Caption: (From L - R) Shiv Sena leader Manohar Joshi, late Pramod Mahajan's son Rahul and BJP leader Gopinath Munde against a huge poster of Mahajan at an all-party condolence meet in Mumbai.
Photograph: Arun Patil


What do you think about the story?








Read what others have to say:





Number of User Comments: 4








Sub: homage to mahajan

India has lost a talented leader. he was the future of india. i am shocked when heard about death of mahajan.he was my ideal.i pay ...


Posted by guddu kumar









Sub: Paying homage

________________ Payee's a/c only ________________ Pay Mr. Pramod Mahajan Homage Sd/- R K Iyer


Posted by R K Iyer









Sub: He was another leader

I'm sorry for being blunt but why can't we mature. What was the contribution of Mr. Mahajan to this country except running a party and ...


Posted by Tarun Bhardwaj









Sub: His deeds will be ever remembered

His deeds will be ever remembered. May his soul rest in peace.


Posted by laal






Disclaimer