Home > News > First Look


Burning the Code

May 09, 2006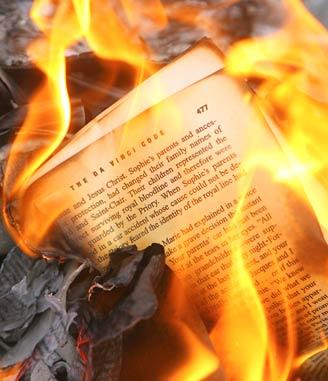 A copy of Dan Brown's bestselling book, The Da Vinci Code, being burnt at a protest by Mumbai-based Catholic Secular Forum on May 09.
Demonstrating outside a church in the city, the Forum called upon Christians to 'fast unto death' to stop the release of its screen adaptation. The film distributors have delayed the India release, which was initially slated for May 12.
The Da Vinci Code has generated much controversy as it revolves around a clandestine society that is attempting to protect secrets about the life of Jesus Christ.
The CSF is also protesting against the film, Tickle my funny bone.
Photograph: Indranil Mukherjee/AFP/Getty Images
External link:


What do you think about the story?








Read what others have to say:





Number of User Comments: 12








Sub: Encashing the ''Secular Brand Wagon''

As secularism is in fashion, and gives people some kind of acceptance among ignoramuses, therefore, any devastating argument or organisation should invoke the word 'secular' ...


Posted by Shekhar









Sub: This is not Fair Guys... :(

I thought India was a Cultural & Religious nation. But seeing the above comments I feel we are heading towards becoming an atheist nation. Or ...


Posted by Navin









Sub: Suprised by your Question

Christianity doesnt belong to the west. Where ever there are followers, it'll effect them. Do u mean to say that Hindus in the West shouldn't ...


Posted by NVD









Sub: Catholic and Secular?

First you need to get your English Language correct, "Secular" by no streatch means "Anti-God", it just means one who is not a priest. From ...


Posted by Vineeta Bastian









Sub: burning the code

We have had enough. Society has disgraced itself by attcaking the sentiments of the religious community. A majority of word still beleives in religion, who ...


Posted by imtiyaz






Disclaimer