Home > News > First Look


Reservation = Re-serve the nation

May 05, 2006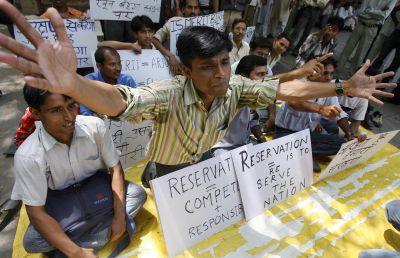 Activists of the All India Reservation Forum for Other Backward Classes and Scheduled Castes/Scheduled Tribes staged a dharna in New Delhi on Friday against the ongoing protests staged by professional college students against the government's proposed move to reserve seats in central educational institutions on the basis of caste.
Complete Coverage: The Reservation Issue
The government has recommended to reserve up to 50 percent of seats in premier educational institutions - medical, engineering and management.
Also on Friday, the Supreme Court vacated its interim order providing for 10 per cent reservation to the Scheduled Castes and Scheduled Tribes in the all India quota for post-graduate medical courses.
The protests were sparked after Human Resource Development Minister Arjun Singh said early in April that his ministry will adopt the Mandal Commission model of 27 percent reservation for backward classes in all central government-funded educational institutions.
Prakash Singh/AFP/Getty Images


What do you think about the story?








Read what others have to say:





Number of User Comments: 60








Sub: powerplay of politics!

It is indeed commemdable the way Arjun Singh introduced the proposal of upto 50% reservation right before the elections.. What perfect timing!! One just cannot ...


Posted by novita singh









Sub: reservation in cricket team

If reservation in indian cricket team is not acceptable then why in education.Everybody in india wants the best team to represent india. Nobody wants 20% ...


Posted by sophia









Sub: free basic education and free higher education on merit to poor

I suggest free education to all the poor people upto 10th std (irrespective of caste).After wards free education to poor should be purely merit based.If ...


Posted by raghu









Sub: Shame on Politicians - Noreservations for women in parliament

The country and all political leaders of all parties ( all colours) should hand hang their heads in shame as they could provide legislation of ...


Posted by AswathaKumar









Sub: Find your own way

Right up front let me say that I really despise the idea of reservations in any form. But it does not seem like there is ...


Posted by Ajish Koshy






Disclaimer