Home > News > First Look


J&K sex scam: Look what's burning

May 05, 2006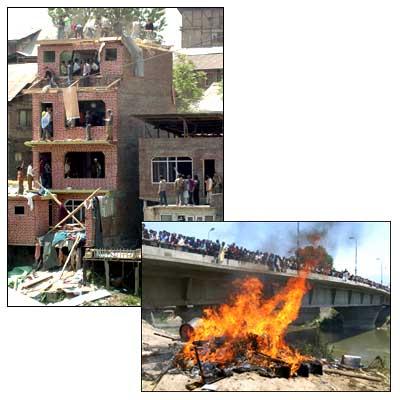 The infamous sex racket that rocked Jammu and Kashmir recently took a violent turn on Friday after an agitated mob brought down the house of the prime accused in the racket involving top politicians, bureaucrats and police officer in the state.

Since early morning, angry mobs had started gathering at different places in various localities of downtown Srinagar.

According to police, they later marched to Chinkran Mohalla where they ransacked and later razed the house of Sabeena, the alleged kingpin in the sex racket who is already under police custody.
Sabeena and two youths allegedly produced a 30-second pornographic CD that brought the scandal to light in March. However, the scandal shook the state after a girl claimed that she was forced into prostitution and that some politicians and security officers were allegedly involved in the racket.

Text: Mukhtar Ahmad | Photograph: Tauseef Mustafa/AFP/Getty Images
Image: Angry protestors ransacking the house of Sabina, the prime accused in the sex racket case.


What do you think about the story?








Read what others have to say:





Number of User Comments: 11








Sub: mr ajit reaction

in kashmir vallet at average since last 17 years daily 10 person die of violence i.e bullet bombs custody killing such things are normal in ...


Posted by furhat









Sub: What is burning!

Why should the higher ups in administration and politics be allowed to go scot free after pushing a society into such a dirty trap. The ...


Posted by khalid









Sub: Selective Amnesia???

32 people were killed by terrorists in Doda, and no one - form the Centre to the state government to local leaders, to even the ...


Posted by Gautam









Sub: srinagar sex scam

when 19 hindus residents of Kulhand were shot dead in cold blood by terrorists there was no such angry reaction from the residents of srinagar.why ...


Posted by ajit









Sub: yes

It proved again that Indian people are vigilant


Posted by vijay saradhi






Disclaimer