Home > News > First Look


On his final journey home

May 01, 2006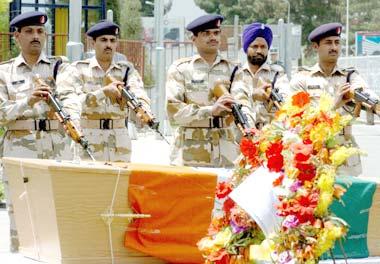 Indian soldiers salute the coffin containing the body of slain engineer K Suryanarayana, at Kabul airport, before it was flown back to India.
Suryanarayana, who was working on a telecom project, was abducted and then killed by the Taliban on Sunday morning.
His body is being flown to his hometown of Hyderabad. Suryanarayana is survived by his parents, wife and three children.
He is the second Indian to have been killed by the Taliban while working on development projects in Afghanistan.
Photo: Shah Marai/AFP/Getty Images


What do you think about the story?








Read what others have to say:





Number of User Comments: 48








Sub: WAKE UP AND BLOW EVRY THING

Please go ahead and kill all the terrorist and finish this shit once and for all.If we loose our people no worries but kill them.Please ...


Posted by Lawrence









Sub: Please save our people.

This is very sad.Innocent people get killed for no reason and we just publish this in media.Request to the government is to take a very ...


Posted by Lawrence Walker









Sub: Shame for Indians

I really dont regert in stating that the Indian Govt should now give up its image of being a peace loving nation.A Indian is beging ...


Posted by Amit Patnaik









Sub: We need to do something about it now!!!

Its high time that measures are taken to protect our people who venture out of the country to make a living and end up losing ...


Posted by Neha









Sub: feeling sad and get shocked by hearing about the murder of Mr. Suryanarayana

To the concerns, As i was shocked by hearing about the massive murder of our Hyderabadi colegue & i feel very pety for his family, ...


Posted by Syed Naseem






Disclaimer