Home > News > First Look


Prince Charles with the English cricket team

March 26, 2006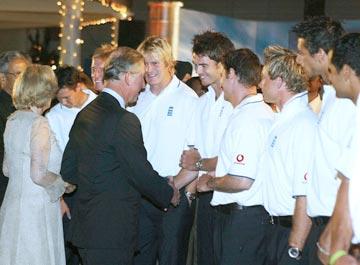 Prince Charles, the Prince of Wales, accompanied by his wife, Camilla, the Duchess of Cornwall greets members of the England cricket team during a reception to celebrate the birthday of Queen Elizabeth II at the British High Commission residency in New Delhi, on March 26. The reception was hosted by British High Commissioner to India Michael Arthur.
The royal couple are in India until March 31. The prince's last visit was in 2003. 
During their private visit, the couple will launch the Prince of Wales New Food Foundation, attend Rajastan Day celebrations and interact with farmers and business leaders.
Photograph: RAVEENDRAN/AFP/Getty Images


What do you think about the story?








Read what others have to say:





Number of User Comments: 3








Sub: Chalie

Diana Live! Boo Boo Camilla


Posted by Shalini









Sub: he is not prince of world

Instead of saying Prince Charles, we can start using Prince Charles of England or UK. He is not Prince of India, whose family looted our ...


Posted by Sivakumar









Sub: waste of time

he has come for just wasting time,


Posted by aap






Disclaimer