Home > News > Report

Life is same for PM's relatives in Amritsar

Onkar Singh in Amritsar | March 24, 2006 00:09 IST
Last Updated: March 24, 2006 01:13 IST



While Prime Minister Manmohan Singh is in Amritsar to flag off the Amritsar-Nankana Sahib peace bus, twenty-two of his relatives will get an opportunity to meet him.

The relatives wanted to have a bigger family get-together, but the PM's Special Protection Group did not clear it for security reasons.

As a result, many relatives, most of them children, will not attend the get-together at the Circuit House.

"A list of 22 members of the family and their vehicle numbers have already been sent by us to the SPG officers. We would have a 30-minute meeting with him," Dr Singh's younger brother Surjit Singh told rediff.com.

Most of Dr Singh's relatives have made a mark in their professions and they say being related to the prime minister of the world's largest democracy has not changed a thing in their lives.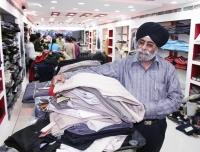 Surjit, along with his brother Daljit Singh, is a franchisee of Gurgaon-based cloth and readymade garment shop Koutons owned by one of their relatives.
The two brothers, besides owning the plush showroom on Amritsar's Mall Road, continue to do their old auto spare parts business.
Surjit says life has not changed after Dr Singh took over the reins of the government and it is their own enterprise that is helping them grow.
He is as simple as his illustrious brother. "I was in Delhi three days ago and spent some time with him," he said.
Another of Dr Singh's relatives, general secretary of the Amritsar Hotel and Restaurant Association A P Singh Chatha, proudly displays his picture with Dr Singh in the lobby of his Hotel Sun City Towers.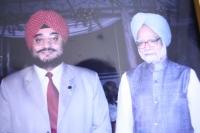 "No is the answer if you want to know if it helps your business being a relative of prime minister of India.
"You know Dr Singh and he does not entertain any request for a favour, so there is no question of asking him something," Chatha explained.
The family has been busy for a week, holding talks with the PM's security personnel.
A team of SPG personnel arrived a week ago and inspected all the places that the prime minister is expected to visit.
The Golden Temple, in particular, has been cordoned off and it would be sealed on Wednesday night.
Media persons wanting to cover the prime minister's visit to Darbar Sahib will be taken to the temple complex two hours before the visit.
Dr Singh is expected to pay his respects and listen to Shabad Kirtan at 6 am.
"He would be spending at least half-an-hour to 45 minutes. Punjab Chief Minister Captain Amarinder Singh would accompany him. We have asked for police personnel from 18 districts for this particular visit," said a senior state police official.


What do you think about the story?








Read what others have to say:





Number of User Comments: 1








Sub: PM.. Dr Manmohan singh

Our Hon'ble PM is great individual and we are very fortunate to have him as our Leader in difficult times.


Posted by AswwathaKumar






Disclaimer