Home > News > First Look


Bush meets the General

Team Rediff | March 04, 2006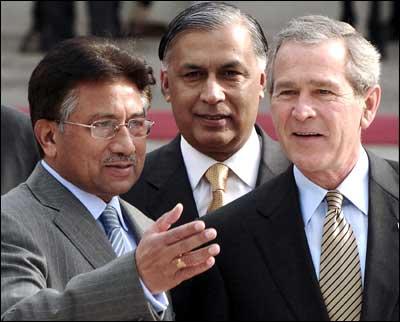 United States President George W Bush on Saturday held talks with his Pakistani counterpart General Pervez Musharraf in Islamabad after a colourful ceremony to welcome the American leader.
Bush, who arrived in the Pakistan capital on Friday night following a three-day visit to India, held one-to-one talks with Musharraf at President House amid tight security.
The one-on-one talks were followed by delegation-level discussions covering a variety of issues, including the emerging close ties between India and the US, especially the just finalised civilian nuclear energy cooperation deal.


Pakistan has said it seeks a similar arrangement from the US.
Image: President Bush, General Musharraf and Pakistan Prime Minister Shaukat Aziz at the welcome ceremony at President House, Islamabad. Neither Musharraf nor Aziz greeted Bush at Islamabad airport, citing security reasons.
Photograph: Mandel Ngan/AFP/Getty Images


What do you think about the story?








Read what others have to say:





Number of User Comments: 1








Sub: US DON's Southasia visit

This is the time when the whole world is watching india and pakistan when the don of US is here. He has brought more cheer ...


Posted by anish






Disclaimer