Home > News > Report

'The queen of America had come'

Archana Masih in New Delhi | March 02, 2006 19:16 IST
Last Updated: March 03, 2006 10:38 IST



Laura Bush was early. 

 

It was just by five minutes, but when powerful dignitaries arrive before time, it does leave a mark.  

 

So when the American First Lady arrived in her gleaming limousine at Prayas, the home for abused children in Tughlaqabad in Delhi, she had made the perfect entry. 

 

After that, the hour-long visit went like a dream.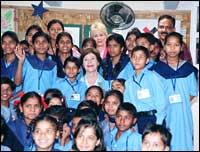 Prayas had seen other important guests before -- like the princess of Bhutan, former American deputy secretary of state Richard Armitage, Bollywood actors Manisha Koirala and Jackie Shroff -- but never had someone of the stature of Laura Bush come calling.
Obviously, Seema, Arti and Shilpa, who had to welcome her with bouquets, were nervous. They had stood in position for over an hour to make sure everything went as rehearsed.
Arti, 18, a mute girl, explained in sign language that they had prepared for seven days for the big day and would have liked to see Mrs Bush stay longer with them.
Seema, the oldest of the three, an alumnus of Prayas, had travelled from a shelter home in Kolkata for the event.
"She was so cute, spoke so gently and was so well dressed. In India when in the name of fashion girls wear such short clothes, I think she kept in mind the Indian sensitivity and had worn clothes that covered both her arms and legs," Seema said.
Shilpa, all of eight years old, the youngest and most shy, pulled the gift from her lap that the First Lady gave her – a visiting card which said 'Laura Bush' and a light blue diary on which was embossed 'The Seal of the President of the United States.'
Another group of children had practiced for a dance performance for Laura Bush. Decked in traditional finery in tune with a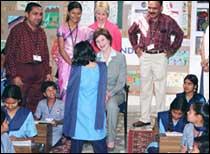 Rajasthani theme, the kids performed a folk dance soon after the bouquets were given to Mrs Bush.
"She loved our dance, said thank you to us and we said welcome," said a little girl through her rather large nath (traditional nose ring extending from the nose to the ears). "You know who she was?" another sprightly girl questioned precociously. "America ki rani aayi thi (the queen of America had come)!"
Laura Bush was accompanied by Jeannie Mulford, wife of American Ambassador to India David Mulford. Security, naturally, had been strict. US security personnel had been going in out of the shelter for weeks and the staff and children had been asked to be present by 7.30 am, almost four hours in advance.
The names of all children along with details like father's name, home address, date of birth, colour of skin had been sent to the US embassy and identity cards had been issued to all children by Prayas. The staff were given security clearance by the Delhi police and had to wear IDs bearing their names, blood group, date of joining and addresses.
After the traditional welcome, Laura Bush saw the various vocational training courses run by the shelter and then went on to the most important part of her morning programme – a roundtable with Sartaj, 12, Karishma, 12, Komal, 14 and Tabassum, 16.
'"Good Morning, I'm Laura Bush,' this is how she introduced herself," said Tabassum. "She said she liked talking with children and had been a librarian."
The girls asked her few questions and her answers were translated to them in Hindi. "We asked her if there was discrimination between boys and girls in America like it was in India. She said there was but there were fewer cases."
"We asked her whether poor children found it difficult to go to school like it was in India and she said that sometimes teachers went to childrens' home to teach or kids went to special centres to study," Tabassum said.
After some coaxing, a quiet Kashmira said: "We asked if children in America became independent at the age of 15. She told us that it did happen but if the kids were not independent by then, their parents looked after them till they became 18."
One child who had suffered abuse wanted to know if children suffered abuse in America.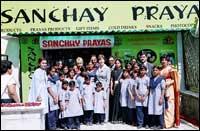 The First Lady admitted there were problems of trafficking, child neglect and abuse. Most of such exploited children received foster care support.   
"We liked her very much. She looked so pretty, her makeup was perfect and she wore such nice clothes," said Komal.
The First Lady gave the children diaries, White House mementoes, soft toys and sweets. While Prayas gave Mrs Bush a candlestand and a Madubani painting.
After spending an hour and eight minutes at Prayas, Laura Bush signed the visitors book and wrote: 'With thanks for your devotion to children and with much love. Laura Bush'
When the girls had woken up at they had been nervous but by they were a confident and delighted bunch. They wanted to share their experience with everyone who asked them about it and wanted their pictures shot. They danced to dhols long after Laura Bush had left and got an American to join them too.
Her husband may be the most powerful man on earth. He may have signed a landmark nuclear deal with India. But here at Prayas the star was a former librarian named Laura Bush.
Photographs: courtesy Prayas
Also see
Laura makes her Indian television debut
Laura's day out in Delhi
Laura Bush's distinction
India and US First Ladies
Complete Coverage


What do you think about the story?








Read what others have to say:





Number of User Comments: 1








Sub: How shamefull

It is such a shame & Disgrace to our Nation that kids were asked to fill in forms indicting Color Of Skin etc, did Mrs ...


Posted by Santosh Mullapalli






Disclaimer