Home > News > Report

Laura debuts on Indian telly

Vaihayasi P Daniel in New Delhi | March 02, 2006 16:21 IST
Last Updated: March 02, 2006 18:17 IST



She was very friendly. Great fun. It was just like the visit of a friend," says Niret Alva, president and executive producer, Miditech Pvt Ltd, of his meeting with US First Lady Laura Bush on the sets of the Indian version of Sesame Street, Galli Galli Sim Sim in New Delhi on Thursday.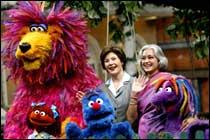 After the American first couple's visit to Rajghat, the American President set out for Hyderabad House for his meeting with Prime Minister Manmohan Singh. Laura Bush struck it out on her own and headed across Delhi to Noida to tape a segment of Galli Galli Sim Sim, which is being produced by Miditech in conjunction with Turner Cartoon Network.
In the segment, which was filmed on Thursday, the children are told to welcome a special guest who is Laura Bush.
She spent an hour on the elaborate and very colourful Indian sets of the popular American television show for children, meeting four of the main characters (Chamki, Bhoombah, Achoo, Googli), the children participating on the show as well as the technical crew and doing the shoot.
Says Alva, "Laura Bush and (Children's Film Socierty Chairman) Nafisa Ali taught the kids to count from one to five on this segment. The episode was in Hindi but Laura Bush, of course, spoke in English. She talks very well because she has a background in education."
The visit came about because of Laura Bush's involvement with the Sesame Workshop in the US. "And then she had a very good experience on the Egyptian sets of Sesame Street (in Cairo on her visit to Egypt in 2005). When they knew Mrs Bush was going to be here the Sesame Workshop invited her on the Indian sets. And she was very happy to come to our sets. There was huge attention to details in the organisation of her visit. And fantastic security arrangements," says Alva.
Galli Galli Sim Sim focuses on a typical Indian street scene with the four Indian-style Muppets. According to Alva, Laura Bush was very enthusiastic in her participation in the market scene and enjoyed that part immensely.
She was accompanied by her personal staff, Jeannie Mulford, the wife of US Ambassador David Mulford, and White House photographers for the visit which began a little after 10 in the morning.
The encounter began on a formal note with everyone wishing her namaste and she doing the same, describes Alva, but quickly became informal and friendly.
Says a Miditech manager,"It was a very structured visit and the Secret Service men had come to plan the visit. It was two minutes for the introduction and four minutes for make up etc. We were very aware that she was the First Lady, but she was very cool, very unhurried. Her manner was very soothing, very free. She was smiling always. And she did her segment in just two takes and took photographs."
Laura Bush distributed gifts to the folks on the sets -- badges signed by her husband, White House pens, paperweights. "It was very touching," says the Midtech manager.
Photograph: David Guttenfelder/AFP/Getty Images


What do you think about the story?








Read what others have to say:





Number of User Comments: 2








Sub: laura visit

Layra has come with Goblin men. never have a look at them


Posted by abx









Sub: query

Were the gifts distributed by the Lady Laura Bush - Made in China ? or Made in USA ? or ????


Posted by gr






Disclaimer